---
At Adelphi, we believe that bringing together students from a wide range of backgrounds and experiences is what makes our programs so strong. In this series, we're featuring four MA in Educational Technology alumni who came to the master's program from an array of professional backgrounds and who found success afterwards in four different sectors.
My MA Story
An Interview With Loreto Dumitrescu, Assistive Technology Evaluator at the New York City Department Of Education
"Teaching blended-learning courses had somewhat prepared me for this surreal experience we are now collectively having during the pandemic."
Universal Design for Learning is about creating equal opportunities for students by removing barriers in educational environments. Technology has opened up new avenues for access, but as, Loreto Dumitrescu explains, these tools need to be applied thoughtfully, "instead of technology just for technology's sake."
Dumitrescu has been an occupational therapist for more than 15 years and has worked for the NYC Department of Education for more than a decade. During that time, she became interested in Universal Design for Learning and the ways that technology could help her students. She turned to Adelphi so that she could deepen her understanding of theory and also apply what she was learning directly to her job. With Adelphi's blended learning approach, she was able to do this all while working full-time.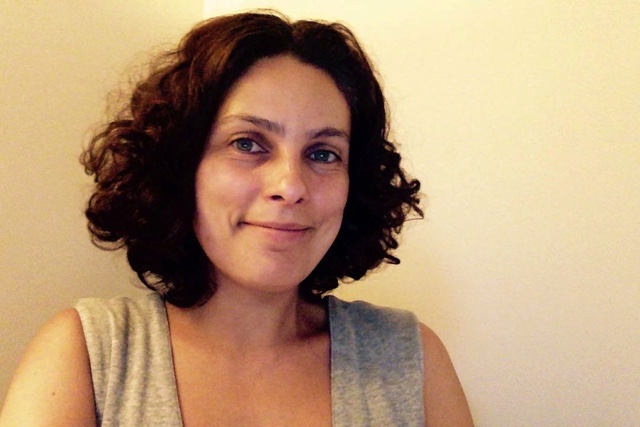 Name: Loreto Dumitrescu
Current Job: Assistive technology evaluator at the New York City Department of Education
What led you to pursue a degree in EdTech?
I am an occupational therapist and have been working for the NYC Department of Education (DOE) for over 10 years. My work with the Center for Assistive Technology within the DOE as an evaluator started piquing my interest in Universal Design for Learning and how the use of technology can benefit my students attending special education programs.
Why did you select Adelphi's MA in Educational Technology?
As I began my search for various educational technology programs, I was most drawn to the curriculum developed through Adelphi. This program had both a rigorous academic and pragmatic curriculum. My interest in educational technology was not only theoretical and research-based—I was most interested in taking the theory into practice and applying it to my current work in special education.
The Adelphi program also encouraged great flexibility as well as integrating your personal interests into the curriculum. Additionally, I was drawn to the blended-learning model, which allowed me to continue working full-time while pursuing my degree.
What was the learning experience like for you?
I found the learning experience rigorous as well as highly engaging. I found that most of the projects and readings that were assigned were thoughtful, provoking and timely. The assignments directly supported ongoing learning and helped to build a deeper understanding of the theoretical foundations. I most appreciated the efforts of my professors for integrating open educational materials and resources as well as implementing project-based learning.
I had many memorable projects ranging from learning game design in order to create a card game that teaches students about food nutrition, developing an augmented reality game to teach phonics for my research paper, as well as multiple computer science courses that helped to demystify the fear around coding.
Can you tell us about your current job?
My current role involves supporting students and staff in identifying and implementing the most effective assistive technology for ongoing learning in K-12. My role also supports understanding and training teachers on how to utilize educational technology for effective pedagogy. It's about thoughtful use of technology to enhance learning, instead of technology just for technology's sake.
I find the interactions with staff and students as well as undertaking the problem-solving process highly engaging and satisfying. I also value the ability to continue my growth and exploration of learning. I have been able to integrate my understanding of computer science and physical computing to advance what is possible, as well as develop more efficient processes for my department.
What are your long-term plans? Did the EdTech program help you achieve those goals?
My experience through the Adelphi EdTech program allowed me to build confidence and ever-evolving competence outside of my work in formal K-12 schools. I have had the good fortune and opportunity to help establish a nonprofit organization, Zero Day Camp, which aims to develop young minds for future computer science and media literacy. Within this organization, I have been able to run camp programming around the Tech for Good theme, which exposes students to design thinking and project development that makes the world around them more accessible to all.
Through teaching, I learned a great deal about physical computing and have developed a passion for Do For Others assistive technology. This has led me to help start up the local chapter in New York City for Makers Making Change. This is an organization with a mission of bringing makers, AT (Assistive Technology) users and disability professionals together to the table. I hope to further grow and develop partnerships locally.
As an alum of the EdTech program, I had the exposure of teaching educators at the post-secondary level (as an Adelphi adjunct faculty member), implementing much of what I learned. Teaching blended-learning courses had somewhat prepared me for this surreal experience we are now collectively having during the pandemic. In the future, I hope to continue developing curriculum and instruction for teachers and fellow disability professionals such as myself.
Is there anything else you would like others to know about this program?
"I cannot speak highly enough about the caring and dedicated professors that make this program the success it is. They are approachable, dedicated and aim to meet their students where they are. This program has empowered me to take chances and build connections within what I bring from my past experiences and what is to come in my future."
Read our other EdTech alumni interviews in the series:
Katy Auchter, product manager at Knewton, Wiley | Jose W. Diaz, online learning manager at Fashion Institute of Technology | Kai Williams, academic technologist at Pace University
---
About Adelphi's Online MA in Educational Technology
The Master of Arts in Educational Technology from Adelphi University is an innovative program that provides a theoretical and practical background in technology-supported learning.
Our fully online graduate degree offers a balance of hands-on training, computer programming and knowledge about teaching and learning.
The only admissions requirement for the MA in EdTech is a bachelor's degree in any subject. As a result, our online program attracts individuals from a broad range of educational and professional backgrounds including teaching, instructional design, library science, communications, web design, software engineering and computer science. Our students include newcomers to the field as well as professionals looking to change careers or expand their skills.
To learn more about the online MA in EdTech, download our program brochure. You can also talk with an enrollment counselor at 888.252.4110.
---
Back to articles