---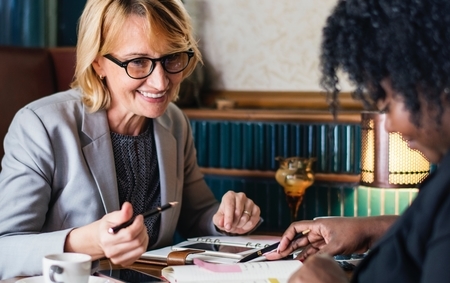 Social Work Career Possibilities Go Beyond Clinical and School Settings
Success as a social work professional is defined by all you do to improve the lives of others. There are many different ways social workers can provide needed help. Among other things, they support older patients with serious health conditions, counsel victims of domestic violence, and advocate for policy changes to address racial inequities. Social workers are employed in settings—from community-based agencies and schools, to outpatient clinics and hospitals, to residential care facilities—that offer a diverse range of opportunities to help communities and individuals.
Whatever population group or field of practice you're interested in, advanced education in social work is a vital step to expand your options and prepare for success in practice and leadership roles. State regulations vary, but to be licensed in New York, for example, you must hold a Master of Social Work and become licensed before you can progress beyond entry-level positions. This article will explore some of the rewarding careers in social work that will be open to you after you earn your master's degree and the skills you'll need to make the greatest possible impact.
Request Brochure — Start Here
To learn more about Adelphi University's Online Programs download a brochure, fill out the fields below or call us at 888.252.4110 to talk with one of our enrollment counselors.
What Careers Are Available With an MSW?
The MSW job outlook presents an array of possibilities to apply your expertise and make a difference. The U.S. Bureau of Labor Statistics noted much faster growth in the field than the average for all occupations, projecting that positions for social workers will increase by 13% between 2019 and 2029. With advanced education and licensure, professionals may excel in workplaces such as schools, government agencies, hospitals, nursing homes, rehabilitation centers, child welfare organizations, social advocacy groups and medical clinics.
These are some of the roles that you may choose to pursue with a Master of Social Work:
Social Work Salary Estimates

| Job Title | Nationwide Median Salary | New York State Mean Salary |
| --- | --- | --- |
| Child, Family or School Social Worker | $49,150 | $62,400 |
| Social and Community Service Manager | $74,006 | $78,125 |
| Medical and Health Services Manager | $101,338 | $131,414 |
| Healthcare Social Worker | $60,840 | $58,240 |
| Mental Health and Substance Abuse Social Worker | $49,130 | $75,234 |
| Substance Abuse, Behavioral Disorder and Mental Health Counselor | $48,526 | $49,650 |
---
MSW Careers
Child, Family or School Social Worker
These professionals specialize in improving the well-being of children and their families. Child and family social workers are often employed by schools, but they also work for state and local government agencies, community service organizations, residential care facilities and social advocacy groups. In each context, experts provide resources and guidance to young people who are concerned about their mental health, live with disabilities, face dangers like abuse or have become victims of cyberbullying and online harassment. In roles as family advocates or support specialists, social workers may also assist parents in managing hardships such as health problems, debt and addiction.
Social and Community Service Manager
Experienced social workers can become leaders within organizations that address problems like homelessness, substance abuse and hunger. Nonprofits, for-profit service providers and government agencies develop programs that connect populations with the direct assistance or information that they need to be healthier and safer. An effective service manager analyzes data to inform how those programs can achieve the best results within a community and carries out strategies accordingly. Managers should be strong communicators who can motivate the social workers and other professionals under their supervision as well as report to program administrators or donors.
Medical and Health Services Manager
Experience in social services is one path toward a leadership role in a healthcare organization such as a hospital, clinic or public health agency. A manager may be tasked with directing and training a staff of healthcare social workers, ensuring that employees consistently provide high-quality services to patients, comply with regulations and stay current with licensure requirements. These jobs call for the administrative skills to keep operations running efficiently and maintain the security of medical records, but managers should also be highly capable communicators who are prepared to address the problems of both patients and their care providers.
Healthcare Social Worker
Adjusting to an illness or injury can be extremely difficult for patients and their families alike. Social work professionals in healthcare settings advise patients as they manage lifestyle changes or other traumatic experiences. Their responsibilities include providing referrals to useful resources and support groups, offering guidance to family caregivers and discussing the emotional or psychological needs of patients with their healthcare providers. As a medical social worker, you can help people who are undergoing treatment or rehabilitation in any stage of their lives. For example, some professionals specialize in advocating for older adults or easing the transition when people with terminal illnesses enter palliative or hospice care.
Mental Health and Substance Abuse Social Worker
It's vital for every social worker to promote psychological health and address the effects of trauma, but some focus specifically on assisting people who live with mental illness or addiction. Mental health social workers may work in a hospital or an inpatient psychiatric treatment center where they meet with clients in individual or group settings. These discussions can touch on the challenges of adherence to a treatment plan as well as other everyday struggles such as poverty or substance abuse. Like other healthcare social workers, these specialists often collaborate with medical experts to develop treatment plans and communicate with family members about the best strategies for doing their part to help.
Substance Abuse, Behavioral Disorder and Mental Health Counselor
Overcoming addiction is a physically, mentally and emotionally taxing journey that typically involves setbacks and relapses. Counselors who have a social work background can provide a holistic perspective as they guide people who have problems with substance abuse through a recovery plan. Often, that means referring clients to other services and resources, such as psychiatric care or specialized therapy, that address co-occurring challenges in their mental health or overall well-being.
---
Social Worker Skills
Whether you're interested in working directly with patients or moving into a management position, ongoing professional development is crucial to maintain social work licensure and achieve your goals. In a Master of Social Work program, you'll delve into theoretical perspectives on social policy and services, gain field experience and complete qualifications for licensure.
An MSW curriculum builds the essential skills needed in the field, including:
Analysis and Problem Solving
To effectively work with clients or lead a social services organization, you have to think analytically about complex problems and identify the best way forward. The field of social work examines how the difficulties of individuals or populations are tied to broader conditions, accounting for the roles played by race, ethnicity, gender identity, socioeconomic status, aging, disability and sexual orientation. When professionals develop a nuanced perspective on these relationships by performing research and collecting data, they can make better decisions about when and how to intervene.
Communication
Professionals who deliver social services must be capable of speaking and writing clearly for people from widely differing backgrounds. In addition to giving clients advice in terms they can easily understand, you may have to discuss treatment plans with families, collaborate with healthcare providers and prepare reports to a supervisor. Each of these audiences requires adjustments in the messages you convey and the vocabulary you employ as you express your professional opinion.
Research
It's the responsibility of social work professionals to provide expert guidance, and that means they must keep up with the latest thinking and best practices in the field. A master's program emphasizes strategies for finding valuable scholarly resources online or in print. You'll deepen your understanding of how to design quantitative and qualitative studies, critically evaluate findings and explore methods to apply what you learn in your own practice. You'll need to participate in continuing education to acquire and maintain your license, which brings many opportunities to engage with new studies and hear from peers how they incorporate these insights into their work.
Crisis Intervention
Social workers routinely come into contact with clients or patients during some of the most difficult times of their lives. Crises emerge from issues such as major change in a person's life or health, tensions with family members or financial struggles. Social work professionals should have the awareness to identify when an event goes beyond normal stresses and take steps to defuse the situation, directing the individual through coping techniques and recommending resources for proactively managing emotionally overwhelming events in the future. Over time, clients can gain the resilience to work through crises by cultivating a deeper understanding of themselves and their connections with others.
Mental Health Assessment
A social services career frequently involves helping people who live with mental illness, including both longstanding conditions and the challenges caused by new situations like a recently diagnosed medical problem. It's important for professionals to familiarize themselves with theories of human behavior and know how to classify different types of mental illness, such as substance abuse, states of anxiety, personality disorders, dementia and schizophrenia. That understanding allows social workers to evaluate each client's mental health status based on factors like physical appearance, speech patterns, emotional state and thought processes when making recommendations.
Empathy
Social workers and leaders in related fields should always be highly sensitive to others' experiences and feelings. It's vital to take the time to immerse yourself in the specific concerns of the populations you work with. For example, a large proportion of U.S. social work clients are either born in another country themselves or the children of immigrants or refugees. Professionals need to be conscious of the stress and trauma that can be involved in these families' experiences and adapt programs and policies accordingly.
Growing your skills and exploring new viewpoints on complicated issues are constant processes in the social work field. By completing an online Master of Social Work program, you'll acquire the conceptual knowledge and hands-on experience that you can apply to improve clients' lives and achieve your professional objectives. There are endless ways to use your social work knowledge to make a difference, but continual learning and growth are crucial no matter what career path you choose to follow.
---
About Adelphi's Online MSW
The highly respected School of Social Work at Adelphi has a long history of producing leaders in social work and helping to shape social policies. Since 1951, we have continually been accredited by the Council on Social Work Education, and Adelphi's social work graduate program, available online or on campus, now ranks in the top 25% of the country, according to US News & World Report. Our faculty are expert practitioners and researchers, having published across the full range of topics within the field—including disparities in healthcare, child advocacy, the role of social workers in shaping policies and more.
The Online Master of Social Work program brings the combined decades of expertise and legacy of Adelphi's leading social work school to a flexible curriculum designed for working professionals. Because building relationships is essential to the social work field, we include two annual residency experiences, which can be completed online or on-campus. We are proud of our ability to deliver personalized attention in the online classroom. Our graduates complete the program prepared to become Licensed Master Social Workers and begin rewarding careers.
---
Back to articles