Nationally Ranked
Among Best Colleges in Education by Colleges of Distinction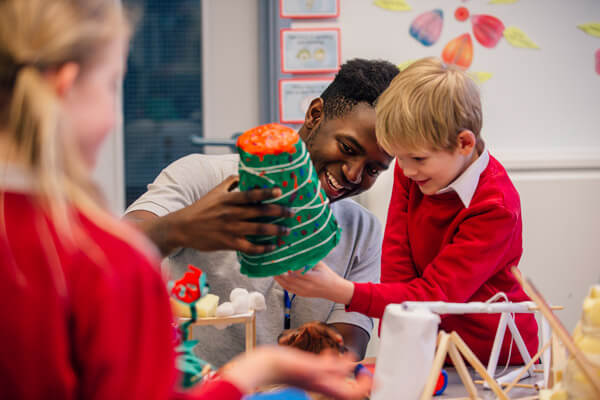 Your Love for the Arts Can Inspire Others
Expand your understanding of the artistic experience to help others unlock their creativity. Complete fieldwork in classrooms, museums, galleries or community settings and get placed in mentor-supported student teaching.
The online Master of Arts in Art Education (MA in Art Ed) program blends creative practice and interdisciplinary teaching approaches to help students become successful art teachers who cultivate the rich connections young people can make through art.
Expert faculty provide highly personalized coursework with unique hybrid scheduling, enabling students to take courses online while completing in-person fieldwork in New York K-12 classrooms. Gain the hands-on artistic teaching experience and career planning support you need to become a skilled art educator.
We are well prepared to help you explore the role of art in education through meaningful fieldwork placements and student teaching environments no matter where you live in the State of New York. Special student teaching abroad placements are also available.
A high concentration of the arts in a city leads to higher civic engagement, more social cohesion, higher child welfare, and lower crime and poverty rates.
—Americans for the Arts
MA in Art Ed students graduate prepared for New York State Visual Arts Pre-K–12 teaching certification and to become creative art educators in a range of settings that include:
Elementary schools
Middle schools
High schools
Public schools
Private schools
Charter schools
Colleges and Universities
Museums
Camps
Afterschool programs
Community-based programs
Art studios
Request Brochure — Start Here
To learn more about Adelphi University's online Master of Arts in Art Education, fill out the fields to download a brochure or call us at 888.252.4110 to talk with one of our enrollment counselors.
*
All Fields are Required. Your Privacy is Protected.
The online Master of Arts in Art Education does not accept international students.
Who Can Benefit
The MA in Art Ed is geared toward individuals who wish to inspire and educate others through interdisciplinary art education and studio art, and value a personalized training environment in learning to do so. Our students are looking to advance their careers and gain institutional endorsement for New York State teaching certifications. With varying educational and professional backgrounds and experience levels in visual art, MA in Art Ed students are equally motivated to explore and better understand the many roles art can play in education. MA in Art Ed students include:
Recent college graduates
Former, current and aspiring teachers
Individuals returning to the workforce
Career changers
Nearly half of the nation's healthcare institutions provide arts programming for patients, families, and staff.
—Americans for the Arts
Program Benefits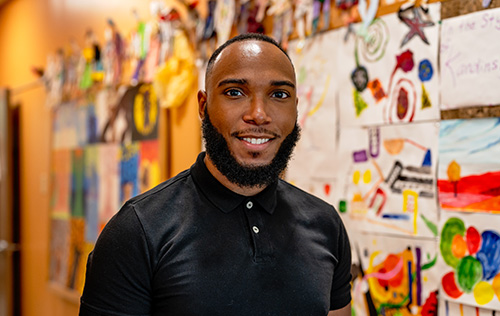 Our blend of online learning and onsite classroom experience offers a convenient educational option to become a creative art teacher and become eligible for New York State teaching certification.
Well-connected, deeply dedicated faculty members with extensive experience and attentiveness to the unique aspects of the roles art plays in education across the lifespan.
Receive fieldwork and student teaching support no matter where you live in New York and benefit from a curriculum geared to teaching certification.
A personalized experience with a wide range of electives to meet your career goals and strong advisement to support you each step of the way—with coursework, fieldwork placements and certification.
No GRE or MAT required