About This Certificate
Finish your certificate in just one year through six fully online courses.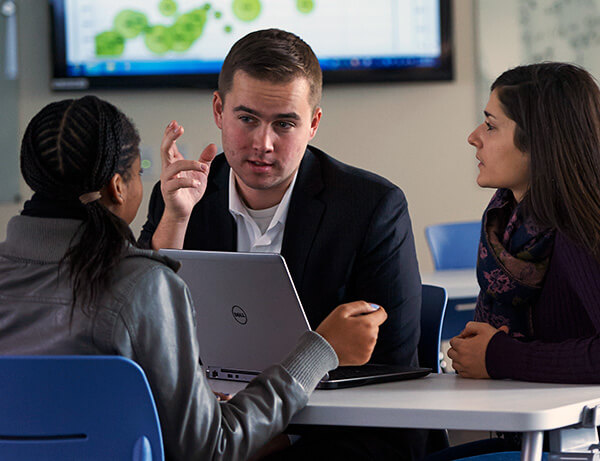 Learn Strategies That Save Lives
Become a leader who others turn to when it matters most. Learn how to deploy science and strategic thinking to predict, plan for, manage and prevent disasters.
The Adelphi University online Graduate Certificate in Emergency Management efficiently and effectively equips students with knowledge and skills that apply to every discipline and industry—in just one year. As recent events demonstrate, managers in organizations of all sizes and every region need to be prepared when an emergency strikes. Whatever your occupation, earning your Emergency Management Certificate online from Adelphi enables you to apply emergency management principles to your workplace, community and life.
The broadly applicable all-hazards curriculum is developed and taught by Adelphi University faculty members, many with front-line experience managing major planned and unplanned events, including presidential visits, global meetings, terrorist attacks, health epidemics, aviation emergencies and natural disasters. They know that preparedness not only protects people's livelihoods and property, it also saves lives, and they are committed to preparing the nation for increasingly inevitable emergencies—one student at a time.
Earning the Certificate helps professionals achieve career goals that include moving into a senior management position or entering the emergency management profession from a related field. Our graduates not only immediately add value to their organization, they also meet a critical societal need for trained professionals who can prepare for and respond to any emergency.
Military personnel can apply G.I. Bill benefits and take advantage of the Concurrent Admissions Program (ConAP), which allows soon-to-enlist or currently enlisted military personnel to enroll in and complete college courses while they continue their service commitments. A Graduate Enrollment Counselor can help you navigate your options.
Since 1970, the annual number of disasters worldwide has more than quadrupled to about 400.
—The Economist, August 29, 2017
Emergency management touches every aspect of society. The foundational competencies that the online Graduate Certificate provide apply to fields including:
Public health
Health care
Social sciences
Homeland security
Information technology
Environmental sciences
Engineering
Education
Travel and tourism
Real Estate
Insurance
Business
One of the tests of leadership is the ability to recognize a problem before it becomes an emergency.
—Arnold H. Glasow
Request Brochure — Start Here
To learn more about Adelphi University's online Graduate Certificate in Emergency Management and download a brochure, fill out the fields below or call us at 888.252.4110 to talk with one of our enrollment counselors.
Who Can Benefit
The online Emergency Management Graduate Certificate attracts individuals from a broad range of educational and professional backgrounds who want to expand their knowledge and earn a professional credential that can help them not only lead their organization in an emergency, but also advance their career.
Prospective students typically are engaged and accomplished working professionals with a strong sense of responsibility who want to make a difference at their organization and in people's lives.
They hold positions including:
Hospital administrator
Nurse
High school principal
Environmental scientist
Information security officer
Small business owner
Accountant
Industrial safety engineer
Police officer
Security officer
---
Program Benefits
Convenient, 100 percent online format helps you balance all your obligations.
Coursework is career focused and can be completed in one year.
You learn how to manage disaster preparedness, mitigation, response and recovery through an all-hazards curriculum that applies across disciplines, industries and types of emergencies.
You earn a valuable credential that demonstrates your competency and commitment to emergency preparedness.