Excellent Outcomes
More than 90% of Adelphi University MSW program graduates gain employment within a year of graduation.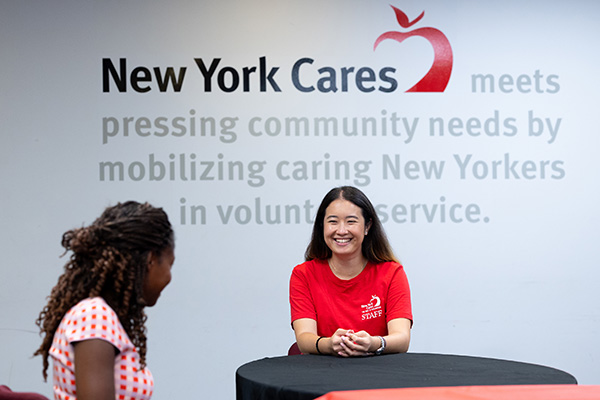 Become an Adaptable, Empathetic Social Work Leader
Adelphi's online MSW part-time program welcomes those who are passionate about improving lives regardless of prior experience. Complete your practicum education online or in New York City.
The part-time Master of Social Work (MSW) program offered by the Adelphi University School of Social Work blends compelling theoretical study and real-world training to prepare students for diverse opportunities and rewarding careers in a vital and expanding industry. The program can be completed online or on campus.
There is also an accelerated Advanced Standing option for students who hold a bachelor's degree in social work from a university or college accredited by the Council on Social Work Education. For more information on the Advanced Standing option for the Master's of Social Work click here.
Students benefit from a high-touch, high-quality education with flexibility to balance all their obligations. Our faculty deliver personalized instruction in a convenient online format, including weekly live and asynchronous online class sessions and twice-yearly intensive learning residencies.
Your Adelphi Online MSW also includes comprehensive assistance with practicum placements—wherever you reside.
If you are interested in the intersection of social work and health, you can personalize your degree path by choosing the Health Across the Life Course specialization. You will gain an overview of health care practice in order to provide expert, respectful care across diverse populations and throughout every phase of human life.
Demand for social workers is projected to grow 15 percent from 2016 to 2026, much faster than the average rate for all occupations.
—U.S. Bureau of Labor Statistics
Adelphi's Master of Social Work online students are given unique opportunities to prepare for licensure. In addition to offering exam preparation courses, Adelphi's program integrates information from previous exams into the program's coursework. This allows our graduates to assume roles such as social workers, administrators and educators in a wide range of settings that include:
Hospitals
Medical clinics
Nursing Homes
Rehabilitation centers
Hospices
Community mental health agencies
Substance misuse clinics
Public and private schools
Child welfare organizations
Health and human services departments
Military bases
U.S. Department of Veterans Affairs centers and clinics
Correctional facilities
Private practices
Request Brochure — Start Here
To learn more about Adelphi University's Online Master of Social Work (MSW) and download a brochure, fill out the fields below or call us at 888.252.4110 to talk with one of our enrollment counselors.
*
All Fields are Required. Your Privacy is Protected.
The online Master of Social Work does not accept international students.
Practicum Placements
Practicum education is a central component of graduate social work programs, teaching students to apply the theory and knowledge learned in the classroom to social work practice in agency settings.
Practicum work assignments include conducting face-to-face interviews with clients both individually and in group settings. We are affiliated with more than 1,000 human service agencies throughout the New York metropolitan region, including, but not limited to:
Child welfare agencies
Community centers
Detention centers and correctional facilities
Domestic violence agencies
Mental health clinics
Medical and psychiatric hospitals
Nursing homes and extended care facilities
Residential treatment facilities
Schools
Substance abuse treatment programs
Veterans' programs
Youth service agencies
Our experienced faculty will work with out-of-state residents to find similar practicum work sites. Visit our Practicum Placements page for more information on the timing and practicality of this central component to the Online MSW program.
Learn more about the on-campus MSW program here.
---
Residency
Relationships are at the core of social work, and students in our online MSW program build professional connections with each other and their professors by attending required residencies.
These two to four-day virtual experiences take place twice annually in August and January. During the residencies, you'll have the chance to collaborate with peers and faculty as well as participate in networking opportunities.
See our curriculum page for more information and the residency schedule.
---
Who Can Benefit
The MSW program online is geared to individuals with busy professional and personal lives who want to expand their knowledge, hone their skills and earn a professional credential that is required for employment or career advancement. Since we offer three distinct paths to degree completion, our students have varying educational and professional backgrounds and may have no professional social work experience. They typically are interested in human nature and social justice and want to make a difference in people's lives. They include:
Recent college graduates
Health and human services workers who want to advance their careers
Individuals returning to the workforce
Career changers
---
Program Benefits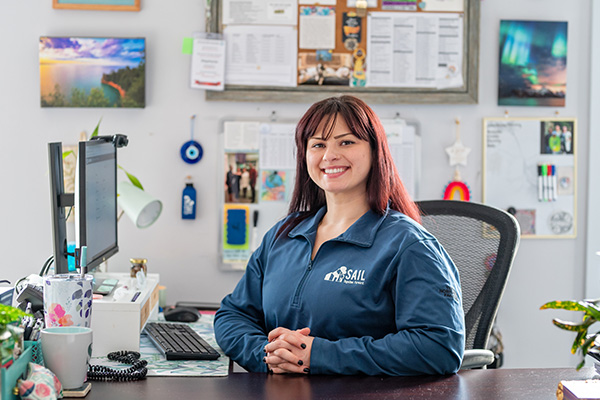 The graduate program can be completed 100% online.
The intensive residencies allow students to immerse themselves in training for a discipline based on human connection.
Distinguished faculty members with diverse research interests and professional backgrounds provide students with an exceptionally rich learning experience.
You flourish with comprehensive practicum-placement support and benefit from a curriculum geared to licensure—in any state.
We offer three paths to degree completion, tailored to your educational and professional background.
Flexible entrance requirements—no GRE required