Why Earn an ESA Bachelor's?
"More and more, the emergency management and public safety fields will be asking for individuals with more education... It is no longer a profession to 'fall into.'"

— Jim McKay, Editor, Emergency Management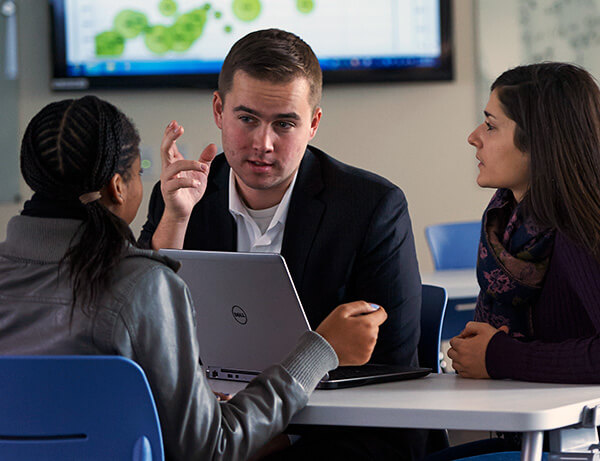 Turn Your Experience Into a Degree
The Adelphi BS in ESA puts you on track for leadership roles in a dynamic, challenging and rewarding profession. We respect on-the-job experience, and many students are able to convert their work into time-saving credits.
The Adelphi University online Bachelor of Science in Emergency Services Administration (BS in ESA) offers students a broader set of knowledge and skills than they typically can gain solely from experience, and it reduces the learning curve for students entering the field directly from their undergraduate studies. Moreover, its cutting-edge curriculum in all-hazards planning applies across disciplines, organizations, industries and sectors, opening doors to diverse employment opportunities in the emergency services field.
At Adelphi, you learn from and interact closely with leading educators, researchers and practitioners, many with front-line experience managing major planned and unplanned events, including presidential visits, global meetings, terrorist attacks, health epidemics, transportation emergencies and natural disasters.
As incidents ranging from hurricanes and wildfires to cybersecurity breaches and mass shootings demonstrate, emergency preparedness is crucial in our homes, businesses, communities and government. By earning your online bachelor's degree in emergency services administration from Adelphi, you can meet a critical societal need for professionals who are equipped to plan for and respond to any emergency—and give yourself an edge in the field.
Students who have received certain public safety training may qualify to receive Life Experience Credits and save money on their degree. Training includes:
Police academy course work
EMT or paramedic certification
Regional or county fire academy training
Military training
Federal DHS courses
Military personnel can also apply G.I. Bill benefits and take advantage of the Concurrent Admissions Program (ConAP), which allows soon-to-enlist or currently enlisted military personnel to enroll in and complete college courses while they continue their service commitments. An Enrollment Counselor can help you navigate your options.
The number and cost of billion-dollar disasters in the United States each year is increasing; there were 16 of these events in 2017, reaching an unprecedented cumulative high of at least $306 billion in damage.
—National Oceanic and Atmospheric Administration
Request Brochure — Start Here
To learn more about Adelphi University's online BS in Emergency Services Administration and download a brochure, fill out the fields below or call us at 888.252.4110 to talk with one of our enrollment counselors.
Who Can Benefit
The online BS in Emergency Services Administration program is geared to individuals who want to position themselves for success in a public safety or related career. They recognize that getting a bachelor's degree will give them a competitive edge, when combined with professional, volunteer or internship experience. They typically are interested in making a difference in the world, solving problems and leading.
Prospective emergency services administration online students include:
Those who have little or no professional public safety experience, but plan to pursue a career in emergency services administration
Public safety professionals, including police officers, EMTs and active and veteran military members, who seek education to expand or hone their knowledge and skills and position themselves for career advancement
Professionals in related fields who want to help their organization with emergency preparedness or make a career change
Undergraduates working toward a bachelor's degree in a related subject, e.g., public health, nursing and environmental sciences, who want to complete a minor or second major in a related discipline
---
Program Benefits
100 percent online, instructor-led format provides you with both flexibility and personalized learning.
You gain foundational competencies and learn how to apply emergency management principles to your occupation, community and life.
As active practitioners, faculty members provide you not only with academic training, but also the latest insights and know-how from the field.
You may qualify for up to 60 credits of prior learning or life experience, enabling you to save money and complete your degree in as few as four semesters.
Our degree shortens the path for earning the Certified Emergency Manager (CEM®) credential offered by the International Association of Emergency Managers.
---
Program Distinctions
Distinguishing the best online colleges and degree programs from nearly 2,000 institutions, OnlineU aggregates alumni salary data and tuition rates to determine their rankings. We are proud to be recognized as:
#3 Best Online Bachelor's Emergency Management Degrees in 2020
#9 Best Online Bachelor's Degrees in New York, 2020