About This Degree
Complete your MSW in 15 months with our accelerated degree program.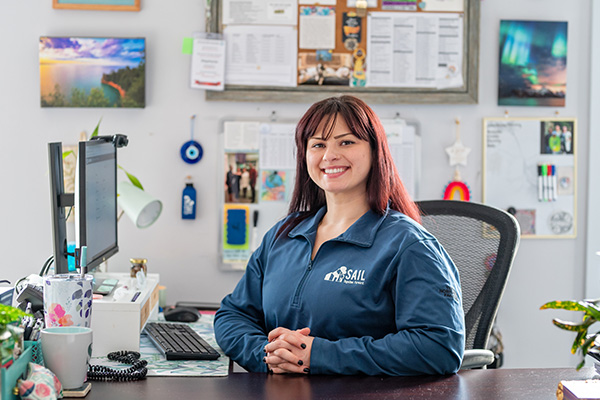 Fast-Track Your MSW
The part-time Advanced Standing program is designed especially for BSW degree holders. Gain a career advantage by graduating from a high-ranked school with a strong alumni network and national reputation for excellence.

15 Month CSWE-Accredited Program
The Advanced Standing Online MSW option is 32-credits taken over the course of four semesters.

90% Employment
More than ninety percent of Adelphi University MSW degree program graduates gain employment within a year of graduation.

Half the Cost, Half the Practicum Work
The Advanced Standing program is half the cost and has half of the practicum hours as a traditional online MSW program.

1000+ Practicum Affiliates
Adelphi is affiliated with more than one thousand human service agencies throughout the New York metropolitan region.
---
The Advanced Standing option for the Master of Social Work (MSW) program is specifically designed for students who graduated from an accredited BSW program in the last five years. This 32-credit program, available online or on campus, allows students to complete the MSW program part-time in just 15 months, at half the cost as a traditional MSW program. Upon successfully completing the program and earning your degree, you will be eligible to apply for licensure as a Licensed Master Social Worker (LMSW).
As an Advanced Standing student in the virtual learning environment, you'll be able to take advantage of the same benefits as the students in our traditional Online MSW program, including access to personalized instruction and unique opportunities to prepare for licensure as a social worker. You'll participate in weekly live and asynchronous class sessions as well as twice-yearly intensive learning residencies.
Advanced Standing students who are interested in the intersection of social work and health can choose to add a Health Across the Life Course specialization.
Advanced Standing students also complete practicum placements in the New York City area or near their own community. Adelphi is affiliated with more than 1,000 human services agencies throughout the New York metropolitan region, which enables us to arrange practicum placements in a variety of settings, both for in-state residents and out-of-state students alike.
---
A Career in Social Work
According to the U.S. Bureau of Labor Statistics, the demand for social workers is projected to grow 15 percent from 2016 to 2026, which is much faster than the average rate for all occupations. Of that growth, social workers who hold an MSW should see plenty of opportunities. According to the National Social Work Workforce Study, 49.5% of BSWs are currently enrolled in an MSW program, and 23.2% expect to enroll in an MSW program in the next 2 years.
A master's of social work (MSW) is one of the prerequisites to becoming a licensed social worker, leading to roles in a variety of settings. Some of the places our MSW graduates choose to work include hospitals, medical clinics, public and private schools, rehabilitation centers, community mental health agencies and hospices. According to PayScale.com, the average salary of an individual with an MSW is $52,000.
---
Five Practice Settings for MSWs Working as Social Workers
| | |
| --- | --- |
| Outpatient, health care services | 17.8% |
| Hospital inpatient facility | 12.2% |
| Educational establishment outside of higher education | 6.0% |
| Private social work practice | 5.5% |
| Higher education institution | 2.0% |
Source: National Social Work Workforce Study
"Because a majority of BSWs go on for their MSW, MSW programs play a central role in helping social work-educated individuals enter the workforce."
—National Social Work Workforce Study
This calculation of new social workers includes only those receiving a social work degree.
Request Brochure — Start Here
To learn more about Adelphi University's Advanced Standing option for the Online Master of Social Work and download a brochure, fill out the fields below or call us at 888.252.4110 to talk with one of our enrollment counselors.
*
All Fields are Required. Your Privacy is Protected.
The online Master of Social Work does not accept international students.
Who Can Benefit
The Advanced Standing option for the Online Master's of Social Work (MSW) degree program allows students with a BSW from an accredited social work program to finish their education and advance their careers at an accelerated pace. Students complete the Advanced Standing program in 15 months, paying half the cost as a traditional MSW program.
---
Residency
Advanced standing students in the online MSW program benefit from intensive learning residencies, which are held twice yearly. These two to four-day virtual experiences take place in August and January. During the residencies, students develop vital connections with their peers and professors through collaborative activities and networking opportunities.
See our Curriculum page for more information and the residency schedule.
---
Program Benefits
A 15 month CSWE-accredited program was specifically designed for students who have obtained an accredited BSW undergraduate degree within the past five years.
Half the practicum hours of the traditional online MSW and half the cost.
Access to the same benefits as the traditional Online MSW including instruction from distinguished faculty members, comprehensive practicum placement support and a curriculum geared to licensure—in any state.
A ranked school with many active alumni, giving you an advantage in the industry.
Flexible entrance requirements—no GRE required.