---
At Adelphi, we believe that bringing together students from a wide range of backgrounds and experiences is what makes our programs so strong. In this series, we're featuring four MA in Educational Technology alumni who came to the master's program from an array of professional backgrounds and who found success afterwards in four different sectors.
My MA Story
An Interview With Katy Auchter, Product Manager at Knewton, Wiley
"I'm especially interested in the tools and programs that aim to democratize education and prepare learners for the careers of today—where tech fluency and a background in STEM have a real impact on opportunities."
Katy Auchter's early career took her from Wisconsin to Guatemala, where she taught English and developed game-based learning for young learners. Katy found that she was frequently looking for ways to incorporate technology into her teaching, and so she decided a degree in EdTech would help her learn new strategies and best practices. She's now a product manager at Knewton, a Wiley-owned company that creates adaptive learning platforms for higher education.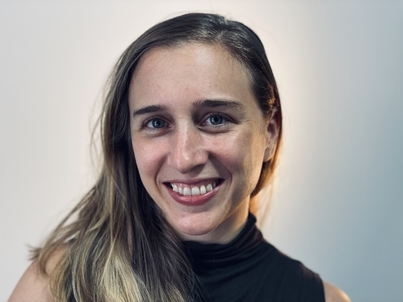 Name: Katy Auchter
Current job: Product manager at Knewton, Wiley
What led you to pursue a degree in EdTech?
I started teaching English language learners both domestically and abroad after completing my undergraduate program. With this experience, it became very apparent that educational technology wasn't just a trend, but a strategy that was almost trying to catch up in the education space.
At the time, I saw educational technology as a reaction to how and what students wanted to learn. I've always really enjoyed finding ways to incorporate technology into my teaching style, and I pursued a degree in EdTech because I wanted to formalize my understanding of the best practices and strategies to do so.
Why did you select Adelphi's MA in Educational Technology?
When I first started researching graduate schools, Adelphi's educational technology program stood out because it offered courses that were hitting at the core of what I found to be the most high-demand issues for students and teachers. Some of the top areas included social media and mobile learning strategies, in addition to the foundation courses in instructional design and learning theory. After getting more familiar with the program directors, faculty and students, I saw that the mentorship and support at Adelphi was unparalleled by other institutions.
What was the learning experience like for you?
"The courses in the program were designed to be engaging—this is a program that doesn't just pay lip service to great instructional design practices, it focuses on demonstrating powerful learning experiences and building career-relevant skill sets."
Two courses in the Adelphi EdTech program that changed the way I think about education were the video game and computer science courses. The analysis of learning principles through game design plays a significant role in my current day-to-day, and I often refer to literature and examples from that course.
In the computer science course I took, we focused on introductory Python. While I don't use Python at work, getting familiar with the principles of programming prepared me to take on more technical projects throughout my career.
Can you tell us about your current job?
I currently work at Wiley as a product manager for Knewton Alta. Knewton was an educational technology start-up that was recently acquired by Wiley. Knewton provides adaptive courseware for higher education, primarily in STEM subjects. As a product manager, I work with UX (User Experience), engineering and data science teams to define and prioritize the new capabilities we want to pursue for our adaptive learning platform.
What I like most about the work is connecting with instructors and learners to identify what's most challenging about the learning experience, and working on cross-functional teams to build solutions.
What are your long-term plans? Did the EdTech program help you achieve those goals?
I plan to continue to collaborate with teams that are passionate about redefining technology and education. I'm especially interested in the tools and programs that aim to democratize education and prepare learners for the careers of today—where tech fluency and a background in STEM have a real impact on opportunities.
The Adelphi EdTech curriculum has prepared me to pursue this goal in a constantly changing field with a program that emphasizes design and systems thinking, access and support with digital authoring tools and a focus on practical training.
The mentorship and guidance from both Adelphi EdTech faculty and the community this program has created resources that I will continue to rely on throughout my career. This group is my go-to for developing new ways to build meaningful educational experiences.
Is there anything else you would like others to know about this program?
EdTech is a field that has an impact on a lot of different industries. The Adelphi program is built to help students explore these different areas, and a faculty team that can support any professional direction you plan to go.
Read our other EdTech alumni interviews in the series:
Jose W. Diaz, online learning manager at Fashion Institute of Technology | Loreto Dumitrescu, assistive technology evaluator at the New York City Department of Education | Kai Williams, academic technologist at Pace University
---
About Adelphi's Online MA in Educational Technology
The Master of Arts in Educational Technology from Adelphi University is an innovative program that provides a theoretical and practical background in technology-supported learning.
Our fully online graduate degree offers a balance of hands-on training, computer programming and knowledge about teaching and learning.
The only admissions requirement for the MA in EdTech is a bachelor's degree in any subject. As a result, our online program attracts individuals from a broad range of educational and professional backgrounds including teaching, instructional design, library science, communications, web design, software engineering and computer science. Our students include newcomers to the field as well as professionals looking to change careers or expand their skills.
To learn more about the online MA in EdTech, download our program brochure. You can also talk with an enrollment counselor at 888.252.4110.
---
Back to articles