---
At Adelphi, we believe that bringing together students from a wide range of backgrounds and experiences is what makes our programs so strong. In this series, we're featuring four MA in Educational Technology alumni who came to the master's program from an array of professional backgrounds and who found success afterwards in four different sectors.
My MA Story
An Interview With Jose W. Diaz, Online Learning Manager at Fashion Institute of Technology
"I really enjoy what I am doing now. I work with faculty one-on-one and everytime I open up a new course it's a whole new adventure."
Many people use Meetup.com to find new hobbies or connect with new friends. For Jose W. Diaz, the site led to a new career.
Diaz had recently switched from working for a medical school to working with MOOCs (Massive Online Learning Courses) when he came across the Meetup group NYEdTech. From there he learned about Adelphi's MA in EdTech and after that "it was smooth sailing."
Today, Diaz helps other educators integrate technology into their classes as an online learning manager at the Fashion Institute of Technology.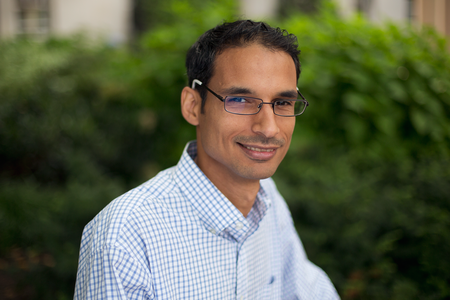 Name: Jose W. Diaz
Current job: Online learning manager, Fashion Institute of Technology
What led you to pursue a degree in EdTech?
I applied for a technical position at the Mount Sinai School of Medicine. This was my first exposure to working in an educational setting. I was hooked. From there I switched jobs and started a senior position at the Columbia University Center for Teaching and Learning. I began creating MOOCs (Massive Online Learning Courses) and this is where I felt I needed to get my master's in education.
Why did you select Adelphi's MA in Educational Technology?
It is funny how it all happened. One day, I saw a group on Meetup.com. I decided to go and take a look. This is where I met Jarrett Carter (MA in EdTech '14) who recommended that I reach out to (Associate Professor) Matthew Curinga. Jarrett told me all about the curriculum and from here it was smooth sailing.
What was the learning experience like for you?
I really enjoyed all the courses but my favorites were the hands-on ones. For the capstone project, we created an instance of Open EDx. I really enjoyed using all the knowledge that we had learned from our classes and building something tangible.
Can you tell us about your current job?
I really enjoy what I am doing now. I work with faculty one-on-one and everytime I open up a new course it's a whole new adventure. I also love doing workshops and it is a skill I've been wanting to improve.
What are your long-term plans? Did the EdTech program help you achieve those goals?
I would love to be a director of a center someday.
"The Ed Tech program exposed me to people who were teachers, learning designers, managers and administrators, so I was able to learn from them. Also, I was able to collaborate with people from different professional backgrounds."
Is there anything else you would like others to know about this program?
A tool that I currently have had much success in higher ed is a tool that was suggested by a teacher in one of our classes. Who would think to use Padlet in higher education? We have had tremendous success using Padlet in various different ways.
Read our other EdTech alumni interviews in the series:
Katy Auchter, product manager at Knewton, Wiley | Loreto Dumitrescu, assistive technology evaluator at the New York City Department of Education | Kai Williams, academic technologist at Pace University
---
About Adelphi's Online MA in Educational Technology
The Master of Arts in Educational Technology from Adelphi University is an innovative program that provides a theoretical and practical background in technology-supported learning.
Our fully online graduate degree offers a balance of hands-on training, computer programming and knowledge about teaching and learning.
The only admissions requirement for the MA in EdTech is a bachelor's degree in any subject. As a result, our online program attracts individuals from a broad range of educational and professional backgrounds including teaching, instructional design, library science, communications, web design, software engineering and computer science. Our students include newcomers to the field as well as professionals looking to change careers or expand their skills.
To learn more about the online MA in EdTech, download our program brochure. You can also talk with an enrollment counselor at 888.252.4110.
---
Back to articles