---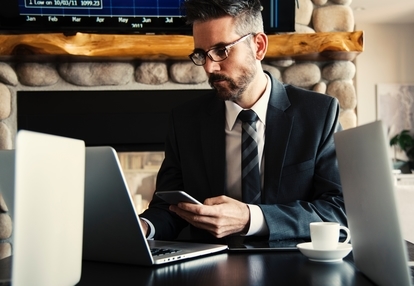 In hazardous situations like wildfires raging across California, people around the world falling ill to a new viral strain or a violent plot threatening civilians, strategic decision-making saves lives. Organizations rely on experts who anticipate these dangers and act to mitigate crises. By learning to implement best practices for emergency planning, response and recovery, you can build a career that makes a difference.
If you're interested in exploring the emergency management industry, it's important to compare the similarities and differences between a master's in emergency management and a master's in homeland security. The right graduate program can provide the knowledge to set plans for hazardous conditions and take charge in the moments when every decision counts.
---
What Can You Do With a Master's in Homeland Security?
A homeland security master's degree program is primarily designed to equip professionals for careers among the more than 240,000 employees who make up the Department of Homeland Security. Formed in November 2002, the newest cabinet department of the U.S. federal government comprises operational and support components such as the:
Cybersecurity and Infrastructure Security Agency (CISA)
Federal Emergency Management Agency (FEMA)
Transportation Security Administration (TSA)
United States Citizenship and Immigration Services (USCIS)
United States Coast Guard (USCG)
United States Secret Service (USSS)
Each of the agencies under the auspices of DHS are staffed by professionals dedicated to the overarching mission of protecting the U.S. against internal and external threats. A graduate education in homeland security can enable you to contribute to that mission, whether you choose to focus on fortifying government agencies, communities, transportation infrastructure or computer systems. Students learn to enforce regulatory compliance and meet ethical responsibilities even in high-pressure situations.
Master's programs focus on knowledge and skills in areas that are relevant to homeland security careers such as:
Budgeting and planning
Critical infrastructure protection
Ethical decision-making
Intelligence gathering
Organizational theory
Policy analysis
Public health
Public sector management
Homeland Security Job Description
Experts in homeland security may advance their careers in a variety of roles depending on their education, employment history and interests. While professionals in this field often have a military or law enforcement background, others may contribute to public safety by applying their technical skills in computer science or their knowledge of business and finance.
Some of the most common job titles for graduates from homeland security master's programs are:
Compliance Specialist
Cybersecurity Engineer
Data Analyst
Intelligence Analyst
Operations Manager
Police Officer
Program Manager
Master's in Homeland Security Salary
Salaries for positions within the Department of Homeland Security and related roles can vary greatly depending on factors like your employment history and any specialized skills you may have such as security testing, risk management and intelligence analysis. PayScale reports people with a homeland security master's degree earn an average of $62,000.
---
What Can You Do With a Master's in Emergency Management?
Studying emergency management involves some of the same concepts as a homeland security degree program, but courses may take a wider perspective that's applicable in both public and private-sector organizations. For example, Adelphi's emergency management master's program offers a broad-based curriculum centered on an all-hazards planning approach. That means professionals learn to operate in many different contexts that call for heightened security or disaster response by employing best practices and software tools to analyze risks, set priorities and determine what resources are necessary.
Readiness for multiple hazards requires emergency management professionals to engage in functional planning, assembling a set of versatile and agile strategies. The systematic development of core functions like alerts and evacuations puts an organization on guard. With ample resources in place, emergency personnel have the means to deal with situations from securing a high-profile meeting of international dignitaries to recovering after an earthquake or flood.
Pursuing a graduate degree in emergency management prepares students to respond to disasters proactively with knowledge and skills in areas like:
Statistical methods for evaluating, analyzing and synthesizing risk data
Multidisciplinary perspectives on managing safety for complex events
Planning methodologies for disaster response
Theory and practice in organizational behavior
Research methods to inform decision-making
Public administration
Regulatory compliance
Maintaining business continuity during a disruption
Professionals may pursue emergency management careers within DHS, but also in other government agencies, nonprofits and private businesses. Some common workplaces for emergency management specialists include:
Local or state government agencies
Hospitals
Universities
Disaster relief organizations
Utilities
Extraction companies
The military
Emergency Management Job Description
Experts in emergency management are responsible for analyzing possible risks to an organization or community and creating plans that minimize disruptions to essential functions while preserving lives and property. To prepare for dangerous situations, a specialist in this field must stay current with best practices, applying the latest software tools and quantitative methods. Professionals ensure that emergency facilities are properly maintained, equipped with all necessary supplies and staffed by employees who are trained to handle the worst.
When a disaster does occur, emergency management specialists collaborate with government agencies, public safety officials and nonprofit organizations. A well-planned response makes it possible to limit harm while efficiently executing response and recovery strategies. Other important duties can involve assessing the damage caused by an event, arranging to share resources across multiple affected communities and applying for federal funding.
Some of the top job titles for professionals with an emergency management master's are:
Emergency Manager
Emergency Management Specialist
Environmental Health and Safety Manager
Security Manager
Health and Safety Manager
Security Director
Master's in Emergency Management Salary
The Bureau of Labor Statistics reports a median salary of $74,420 for emergency management directors. The BLS projected steady growth in positions through 2028 since there's always a need for organizations to address emergencies and continue to provide basic services even under dire circumstances. The top-paying employers for this field are businesses that offer professional and technical services and higher education institutions.
Earning a master's in emergency management can help you start or advance a career in contending with serious threats. The online degree program from Adelphi University offers an interdisciplinary curriculum based on cutting-edge research from experts in science, technology, management and risk analysis. Opportunities for experiential learning and customization mean that students are ready to take on real problems and implement innovative solutions in a diverse range of emergency management roles.
---
About Adelphi's Online Emergency Services Programs
Adelphi University's online MS in Emergency Management and graduate certificate program are designed to provide you with skills that are immediately applicable to your career. Whether you're an experienced emergency services professional or interested in entering the field, our comprehensive and practical programs can help you take the next step.
Our expert faculty includes leading researchers in emergency management and practitioners with real-world experience in emergency response. We're proud to bring this expertise, personal attention and quality to the online classroom.
---
Back to articles