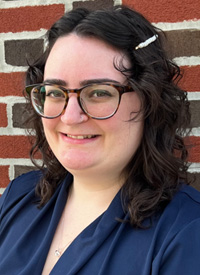 Corinne O'Donnell Smith
Pronouns: she/her
Current Position: Academic Planning Specialist
Hometown: Floral Park
Favorite Book: The Color of Law: A Forgotten History of How Our Government Segregated America by Richard Rothstein
---
What is your career focus?
I am planning to work in hospital social work when I pass my licensing exam.
---
What made you decide to further your education?
I felt like I had hit a wall in my career in academic advising, and I was only able to help a small group of young people. The ways I could help were limited, and it was a privileged group. I felt like I needed to go back to school and find a way to help more at-risk folks.
---
What are your experiences like with faculty, staff and fellow students?
Overall, I felt very connected to faculty, my classmates and my field instructor/liaison. I feel like I made the same meaningful connections I would have in person.
---
What are some of the most interesting or useful concepts and skills you have learned in the Online MSW program so far? How have you applied that skill in work or life?
I learned to ask for help when I was overwhelmed. I would communicate with my instructors, and when I was struggling I reached out and it helped immensely. It was a good lesson for me.
---
Can you describe an interesting project you worked on in the program?
The focus on the physical environment and policy work early in the degree was so interesting. It then translated to the community project we worked on in groups last year. The focus on the larger context of social work, rather than just practice courses, was incredible and gave me an area of interest I would not have had.
---
What goals do you hope to achieve from the Online MSW program? In what ways is the OMSW program assisting you in achieving your goals?
I wanted to change my career to focus on making an impact in the social work field. The OMSW from Adelphi has given me a truly new sense of the social work field and what that means. It has also broadened my career options.
---
What tips do you have for someone as they begin graduate school?
Try to focus on what you are learning rather than the finish line. You'll get there eventually and you don't need to stress yourself out more than necessary. Also, be prepared to have a schedule in place to set aside time to work.