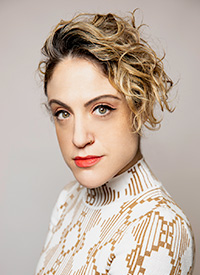 Lauren Weissler
Pronouns: she/her
Current Position: Freelance photographer
Hometown: Baldwin, New York
Favorite Book: Close to the Knives: Memoirs of Disintegration by David Wojnarowicz
---
What is your career focus?
I would love to be a school social worker or provide psychotherapy to children and adolescents.
---
What made you decide to further your education?
I've always wanted to work in the field of mental health, but when I was pursuing my undergraduate degree, I had chosen to focus on my other passion: photography.
---
Why did you select the Online Master of Social Work program at Adelphi?
At the time, I had a full-time job, and I thought it would be convenient to be part of the online program. Adelphi's social work program came highly recommended.
---
How has the online learning experience been for you so far?
The convenience of the OMSW program works exceptionally well for me.
---
What are your experiences like with faculty, staff and fellow students?
The faculty were very hands-on and passionate about social work. There are professors who really took me under their wing, and for that I am truly grateful.
---
What are some of the most interesting or useful concepts and skills you have learned in the OMSW program so far? How have you applied that skill in work or life?
Motivational interviewing. It has come in handy in both my professional and personal life. It holds the person you're interacting with accountable and encourages them to open up more.
---
Can you describe an interesting project you worked on in the program?
It was an absolute honor to be selected as a Graduate Assistant for the Interdisciplinary Education and Training Experience (IDEATE) program, which provides behavioral healthcare services for children and adolescents in underserved communities. Dr. Newransky's trust in me gave me great confidence.
---
What tips do you have for someone as they begin graduate school?
It will be hard work. Give the people in your life a heads up that you will not be as available as you might have been prior to starting graduate school.