---
According to the American Diabetes Association, an estimated 30.3 million people in the U.S.—over 9 percent of the total population—live with diabetes. Keeping their conditions under control requires careful monitoring, regularly taking any prescribed medication and making informed diet, fitness and other lifestyle choices.
A diabetes educator plays a vital part in supporting diabetics by offering guidance and encouragement. They help patients take charge of their lives and follow through with the necessary changes for managing the disease successfully.
When you explore how to become a certified diabetes educator (CDCES), you may find that there are several different educational paths that could lead you to success in this field. Earning an online Master of Social Work or a Master of Science in Nutrition degree might each help you to progress toward your professional goals. Here's what you need to know about starting your career as a health educator for people with diabetes:
---
The Role of Diabetes Education
Doctors and nurses prescribe medications and give their diabetes patients directions for their care. However, managing a chronic disease and all the complications that go along with it requires a strong support system and input from many different perspectives.
For example, where a doctor may provide general guidelines and dietary restrictions, diabetes educators can translate this advice into concrete lifestyle changes. As a diabetes educator, you could expand on the advice that patients and their caregivers hear from other medical professionals, sharing a real-world perspective on how to follow through with large shifts in their daily routines.
Diabetes educators may teach groups of patients and caregivers in classes or meet with them one-on-one. If you pursue this career, you might be employed in variety of settings, including hospitals, public health departments, nonprofit organizations and colleges or universities.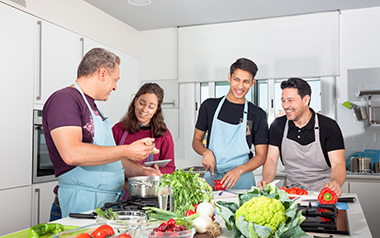 Some of the key services that diabetes educators offer include:
Lessons in how to use devices like a glucometer and insulin pump
Explanations of how to recognize and address complications from the disease
Information about healthy lifestyle changes for patients and their families
Personalized suggestions for following a treatment plan
Advice for solving problems and coping with changes
---
Diabetes Educator: Education Requirements
Specialized education can build your skills in assisting people with diabetes and help you to qualify for certain jobs. Professionals with a master's degree in social work may be prepared to counsel patients and their families so they can adapt to the changes in their lives. Healthcare social workers have the knowledge and experience to help people plan for the long term as they navigate their treatment.
Some positions require a master's degree in nutrition, which helps educators understand the complex role that diet plays in maintaining a healthy lifestyle with diabetes. The right nutritional choices can help diabetics control their blood sugar, respond better to insulin and lower their risk for cardiovascular disease. Several common eating patterns have been shown to help people with diabetes sustain a healthier lifestyle:
Vegetarian or vegan
Low fat
Low carbohydrate
Mediterranean, which focuses on plant-based foods with some dairy, fish and poultry
Dietary Approaches to Stop Hypertension (DASH), which is specifically designed to lower blood pressure
By becoming a diabetes educator, you'll be able to advise patients on how to make changes in their own lives. Staying up-to-date with the latest thinking in social work and nutrition will allow you to guide people with diabetes as they set goals for their treatment plans and select foods that fit their personal tastes and budget.
---
How to Complete Your Diabetes Educator Certification
Certification as a diabetes educator is a practice-based credential that indicates experience and mastery in the field. The certification is not intended as a step toward first entering the specialty, but diabetes educators who complete the process may be able to pursue advanced career opportunities. CDCES holders may become leaders and mentors within the field, and they make an average salary of $62,605.
To become a CDCES, you must meet the eligibility requirements established by the National Certification Board for Diabetes Educators (CBDCE) and pass the Certification Examination for Diabetes Educators. To be eligible for the exam, fulfill the following requirements:
The discipline requirement can be met by holding an active license to practice medicine or another of the registrations and certifications for healthcare professionals accepted by the CBDCE. These include being a registered dietician or completing a master's degree in social work. Along with the standard pathway, there are also unique qualifications that can meet this requirement with preapproval from the CBDCE. Individuals who hold degrees in nutrition, exercise physiology or public health may qualify in this way.
The professional practice experience requirement calls for at least two years of professional experience, plus 1,000 hours of diabetes education over the previous four years
Complete at least 15 hours of continuing education from a provider recognized by the CBDCE within two years of applying for the exam
The exam itself consists of 200 multiple choice questions answered over four hours. If you pass the test, you'll be awarded your certification.
---
About Adelphi's Online Programs in Social Work and Nutrition
A career as a Certified Diabetes Educator is full of opportunities to provide patients with valuable information that helps them manage their condition and achieve improved health outcomes. If you're interested in following this career path, completing an online master's degree from Adelphi University can help you move forward.
An online Master of Social Work is designed with busy people in mind. It will help you expand your knowledge of theory and practice through coursework and professional development opportunities. Working with expert faculty, you'll gain hands-on experience through field education and an intensive on-campus residency. This program will ready you to apply for licensure as master social workers in any state, and the degree can also fulfill the Discipline Requirement for a Certified Diabetes Educator.
The M.S. in Nutrition curriculum will give you an advanced understanding of nutrition science, including nutrition's role in disease management and prevention. You'll learn to communicate nutrition concepts to patients and other non-experts, leading the way in promoting healthier practices. The online program is offers plenty of flexibility for busy professionals and will help you develop the skills that will enable you to succeed in a variety of roles, including, potentially, as a diabetes educator.
Empowering people to manage their diabetes starts with teaching them to transform their lifestyle and stay on track with treatment. An advanced degree in social work or nutrition will help you make a lasting difference in the lives of patients.
---
Back to articles