---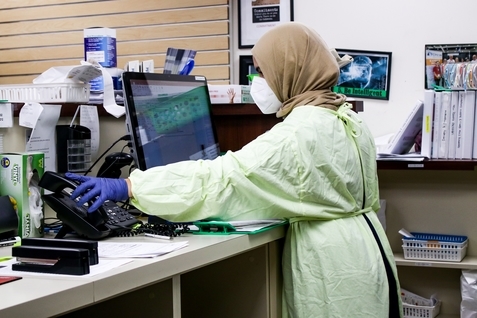 Healthcare data is a powerful resource that can deepen understanding of patients' needs and reveal ways to improve healthcare organizations and policies. The amount of patient data available will grow rapidly as organizations collect more and more patient details and embrace advanced solutions in imaging and analytics. With evidence and predictions gleaned from big data, organizations can work together more productively, benefiting businesses, providers and patients alike.
Organizations need experts who can interpret the data that is collected and provide insights that address the healthcare industry's complex and constantly evolving challenges. To prepare for this role, professionals and career-changers can supplement the training offered in a traditional master's in healthcare informatics curriculum with coursework in health analytics. A sufficient understanding of the two disciplines allows you to use cutting-edge methods such as predictive modeling and advanced data mining to develop deeper insights and more effective long-term strategies. You'll graduate better prepared for the realities of a varied, complex job market.
---
What is the Difference between Health Informatics and Healthcare Analytics?
Health informatics and healthcare analytics are closely related disciplines, and some employers expect their hires to be versed in both areas. However, the two have vital distinctions that affect daily work and overarching objectives.
Health informatics draws principles from computer and information science for the day-to-day work of collecting and managing data.
Healthcare analytics searches for significant patterns within large quantities of data collected from a variety of sources.
In essence, the conclusions reached by healthcare analytics rely in part upon the data acquired through health informatics. Whether used individually or together, both fields lead to strategies that can be used to improve operations and plan for the future.
---
Comparing Skill Sets: Health Informatics vs. Healthcare Analytics
Studying informatics can teach you the best practices to:
Create, maintain and securely share electronic health records
Monitor operations in a facility or business
Gather useful details about patients and treatment results to support research and new product development
Promote greater efficiency in daily operations
Applying analytics to healthcare informatics makes it possible to:
Solve managerial problems, such as adjusting pricing and reworking strategy in response to market forces
Make predictions about an organization's future performance based on past data
Develop a big-picture view of the healthcare industry, observing and measuring the effects of treatment innovations and policy decisions
Build decision models that direct an organization's responses to new conditions, to specific populations of patients and other challenges
---
What Can I Do with a Master's in Healthcare Informatics?
The widespread adoption of electronic health records (EHR) has placed data management at the center of operations and administration in healthcare organizations. Professionals with skills in collecting and interpreting healthcare information may pursue careers like:
Care Coordinator
Ensuring that individuals receive high-quality treatment can become complicated when they must see multiple providers or visit more than one facility. A care coordinator is responsible for keeping the efforts of primary care physicians, specialists, nurses and technicians on the same page. These professionals analyze EHR to spot possible hazards, eliminate redundant tests and help patients manage their insurance coverage.
Clinical Data Manager
Clinical informatics professionals strengthen an organization's network infrastructure and practices for collecting, storing and analyzing healthcare information. Data managers process and evaluate clinical information, planning resources and workflows to meet the requirements of specific projects. They may build databases or design interfaces in addition to providing training and troubleshooting assistance for the clinical staff who work with these systems.
Informatics Nurse
Integrating expertise in nursing with a knowledge of health informatics can lead to improvements in hospitals, clinics and other facilities. Informatics nurses may be tasked with designing, developing and implementing health information solutions. They establish processes for making the best use of those systems and serve as a link between healthcare providers and technical staff, with the sole purpose of affecting safe patient outcomes.
Informatics Pharmacist
With electronic systems widely used to manage prescriptions, pharmacies must handle the relevant health information safely and securely. An informatics pharmacist maintains and tracks information about medications, seeking opportunities to streamline processes and preventing dangerous errors.
---
Studying Health Analytics in Your Informatics Master's Program
Healthcare analytics professionals use quantitative information to solve problems, make decisions and draw inferences. The resulting insights could guide major changes in the future of value-based care, helping insurance payers manage costs, facilities improve patient outcomes and manufacturers build the next generation of pharmaceuticals and medical devices. Healthcare informatics master's programs with coursework in analytics can lead you to even more job opportunities than those listed above, including:
Data Analyst
Data analysts can build careers in furthering the objectives of healthcare organizations, including insurance companies, health systems, private physician groups, government agencies, EHR vendors and consultancies. In these contexts, analysts capture, organize and report on relevant information from sources such as health records, insurance claims and patient surveys. But data specialists contribute the greatest value when they develop what they've learned into strategic recommendations and clearly communicate their ideas to multiple stakeholders.
Health Marketer
Today's marketing teams make decisions about campaigns and ad buys based on a wealth of data, including consumer preferences, lead generation statistics and evidence of engagement through various channels. Promoting healthcare organizations comes with unique regulatory challenges, which makes it even more important to target messaging with accurate research. Marketing analytics professionals may examine sources like insurance claims and patient surveys to help organizations communicate the benefits of a new product or spread the word about public health initiatives.
Informatics Director
To lead electronic recordkeeping in today's rapidly changing healthcare organizations, an executive must have a more thorough understanding of data acquisition and management than other informatics specialists. Informatics directors use analytics to accomplish an organization's goals for maintaining EHR and scaling up operations. They oversee the implementation of new technology, supervise training and identify opportunities to improve the accuracy and speed of reporting.
With further experience in health analytics, you may be prepared for roles such as:
Chief Medical Information Officer (CMIO)/Chief Nursing Information Officer (CNIO)
These healthcare organization executives lead the exploration, purchasing and implementation of clinical IT systems that focus on interoperability and use the resulting data to recommend policies that optimize care. A CMIO and/or CNIO sets the budget and timeline for projects intended to make facilities more agile in adopting the most advanced techniques, drugs, devices and software.
Chief Population Health Officer
Population health is a major focus in value-based systems with organizations investing in wellness throughout communities to deliver wide-ranging benefits. Analytics methods allow government agencies, hospitals, nonprofits and other organizations to determine a course of action that expands healthcare access and prevents disease or injury for an entire group of people. The chief population officer leads the collection and analysis of relevant evidence and addresses the connections between social factors and health problems.
Harnessing the Power of Big Data in Healthcare Organizations
Big data solutions allow you to achieve the major strategic and operational shifts that sustain organizations in a rapidly transforming industry. Incorporating analytics has changed the way doctors, hospitals, public health officials and more approach many of their most pressing problems, allowing for greater efficiency and outcomes across multiple areas.
For example, New York City Health + Hospitals uses data science to identify and care for homeless patients. By searching for specific indicators within electronic medical records, registration documents and insurance claims and analyzing the results, the public hospital network is better able to address the unique health struggles of homeless New Yorkers and ensure its branches have proper resources. In some cases, NYC Health + Hospitals is able to connect homeless patients with supportive community services like food benefit programs and housing opportunities, which are known to have a positive impact on health.
The advantages of big data extend beyond the individual healthcare organization to address large-scale or ongoing public health crises such as the COVID-19 pandemic. In fact, the COVID-19 Index, developed by the National Minority Quality Forum, uses predictive analytics to anticipate upcoming surges of the virus. This allows governments and health organizations to take proactive rather than reactive approaches to supplying resources and managing cases.
Data analytics can also promote equity by helping organizations support disadvantaged individuals. Philadelphia's Jefferson Health uses data analytics to ensure the people most at risk for COVID-19 are prioritized for vaccine distribution.
Informatics are important to render raw data visible and actionable in healthcare settings. Analytics allows health organizations to improve their practices, and therefore their outcomes, from top to bottom. By enrolling in a healthcare informatics master's program that offers coursework in analytics, you can prepare to meet the needs of employers and to thrive in increasingly interconnected and data-rich healthcare environments.
---
About Adelphi's Online MS in Healthcare Informatics
The online Master of Science in Healthcare Informatics from Adelphi University's College of Nursing and Public Health prepares students for careers in implementing cutting-edge medical technologies to meet the needs of patients and healthcare professionals. This degree program is an excellent fit for healthcare administrators, practicing nurses and doctors interested in transitioning to administrative or director-level positions, health IT professionals and career changers. No matter your experience level or background, Adelphi provides multiple layers of support, especially for those who may have been out of school for a while.
Our expert faculty offer personalized instruction in convenient online courses that are informed by years of professional experience. The healthcare informatics curriculum is designed to help working professionals transform healthcare management and delivery. Hands-on exercises and a comprehensive education in health information technology will develop your proficiency in working with emerging healthcare technologies, electronic medical records and the systems that are critical to improving patient care.
---
Back to articles