---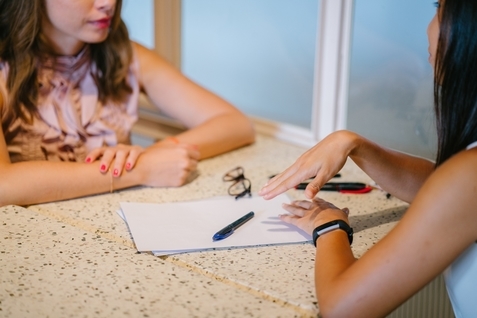 Social workers and counselors provide their clients with more than basic support and guidance— for some, the social workers who helped them through challenging moments have become key sources of feeling safe, secure and happy.
People working in both social work and counseling are often motivated by a common goal: to help and empower their clients. In fact, while these fields offer somewhat different approaches to helping people, they often overlap and complement each other.
For example, the practice of social work is focused on helping individuals take charge of their lives and access the government and social services they need. For licensed social workers, this can involve counseling or referring clients to more specialized types of therapy as necessary. Similarly, a counselor's work can involve making recommendations for seeking other services, such as a psychiatrist or social worker.
---
Choosing the Best Education Path for You
Due to the dynamic nature of social work and counseling, both fields offer a variety of challenges and opportunities to empower individuals. A good first step in deciding which career path is the best fit for you is to think specifically about what types of settings you want to work in and the types of clients you want to help.
Another strategy is to look at common job postings in your area in each field and explore their requirements and key responsibilities. Many of the advanced roles will require a license in either counseling or social work, and some will accept both. By mapping out requirements for some of your ideal jobs, you'll be able to narrow down not only which areas you want to focus on but whether you need a bachelor's or a master's degree to achieve your goals.
To help you get started, we examined some of the key similarities and differences between these fields, and what typical master's in counseling and social work programs cover. Read below to get a broad understanding of how these disciplines interact and where they differ.
---
Master's in Counseling vs. Master's in Social Work Programs
The main differences between the two types of master's degree are in their scope and the methods they teach for dealing with specific issues. A traditional master's in counseling program will include courses in psychotherapy, human development, mental health and explore different theories of counseling. Additional knowledge areas that counseling graduate programs often cover include research ethics, dealing with individuals experiencing trauma and strategies for clinical assessment.
Similarly, master's in social work programs cover human development and mental health. However, social work courses examine these issues in a broader context that accounts for socioeconomic, personal identity and cultural factors. This approach helps social work graduates understand deeply personal issues as well as the role societal factors play in individuals' lives.
---
Master's in Counseling vs. Master's in Social Work Careers
Both types of programs will explore how these professionals can utilize their knowledge in a variety of settings, such as within a private practice, in an agency or in specific sectors like healthcare. As a result, the common career opportunities for both master's degree in counseling and social work have some overlap. For example, PayScale shows that individuals with both types of degrees often become mental health therapists.
However, many master's in counseling graduates take on other roles beyond direct practice, ranging from working in more operational jobs like clinical supervisor to administrative roles like non-profit program coordinator.
On the other hand, many social work graduates focus on working with individuals, families, groups and at the macro level influencing policy. While many specific social work jobs may require some administrative work, the most common career paths for social work graduates all have social worker in their titles—the variety in roles comes from working in different settings or with specific types of clients.
---
Popular Master's in Social Work Careers
Master's social work graduates find ways to make a difference in many settings, including mental health, medical fields, schools and in advocacy roles.
Licensure can impact what social workers are able to do, since they cannot practice psychotherapy without a Licensed Clinical Social Worker (LCSW) designation. Education also has a significant impact on the ability of social workers to find jobs— as the 2018 National Social Work Workforce Study shows, nearly 40% of those with a master's in social work degree say there are many jobs available, compared to just under 22% of those with a bachelor's.
In addition to working in a variety of organizations, some licensed social workers open their own practice. PayScale data shows that some of the most common master's in social work career paths include:
Social worker
Licensed clinical social worker (LCSW)
Mental health therapist
Medical social worker
School social worker
Related Content: Career Options with a Master's in Social Work Degree
In addition to becoming Licensed Clinical Social Workers, individuals in the field can pursue specific certifications in areas of practice. The two most common focus areas for MSW graduates are working with children and families, and helping individuals with mental health issues.
Regardless of the setting, one of the common themes among most social work careers is a focus on helping their clients access the support they need. For example, some of the key responsibilities for a school social worker include:
Helping students build social skills
Assess behavioral issues and make recommendations for action
Refer students to more specialized support when necessary
However, many of the responsibilities for social workers can vary dramatically. If you're considering a career move or looking to enter social work, we recommend first outlining some of the key things you want out of your job. For example, do you want to work with adults or children? Do you have a specific area you want to specialize in, like substance abuse issues or mental health? This will also help to inform the education and degree type you'll need to get there.
---
What Can You Do with a Master's in Counseling?
Common career paths for master's in counseling graduates are focused on providing therapy and supportive services as needed — for example, medical licensed counselors often assist in maintaining compliant patient charts.
Like those pursuing social work careers, master's in counseling graduates can seek licensure to pursue more opportunities. Some specific titles within the counseling field are protected and are only available to those who have earned the Licensed Professional Counselor designation, including mental health counselor. Some of the most popular jobs for M.A. in Counseling graduates include:
Licensed professional counselor
Mental health counselor
School counselor
Clinical therapist
Clinical supervisor
Licensed counselors may be focused in a specific counseling methodology, such as cognitive behavioral therapy (CBT) or solution-focused therapy. Many counseling positions also prefer or require a master's in counseling, and a master's degree is the minimum requirement for obtaining licensure.
About Adelphi's Online MSW
The highly respected School of Social Work at Adelphi has a long history of producing leaders in social work and helping to shape social policies. Since 1951, we have continually been accredited by the Council on Social Work Education, and Adelphi's social work graduate program, available online or on campus, now ranks in the top 5% of the country, according to US News & World Report. Our faculty are expert practitioners and researchers, having published across the full range of topics within the field—including disparities in healthcare, child advocacy, the role of social workers in shaping policies and more.
The Online Master of Social Work program brings the combined decades of expertise and legacy of Adelphi's leading social work school to a flexible curriculum designed for working professionals. Because building relationships is essential to the social work field, we include two annual residency experiences, which can be completed online or on-campus. We are proud of our ability to deliver personalized attention in the online classroom. Our graduates complete the program prepared to become Licensed Master Social Workers and begin rewarding careers.
---
Back to articles