---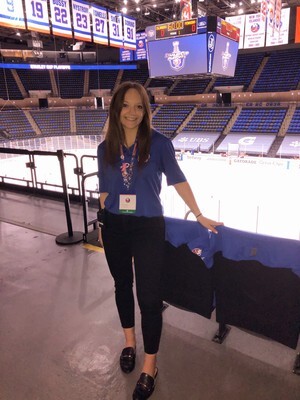 Why Adelphi?
The Master of Science in Sport Management program prepares graduates for a wide range of roles in the industry. Our alumni excel in positions in nearly every professional organization across the tri-state area and the program's reach is only continuing to grow. Discover more about how Adelphi alumni have advanced their careers and continued to use their graduate skills throughout their professional paths.
Olivia Franks chose Adelphi University for both her undergraduate and graduate degrees. From her internships during undergrad, to her current success as a marketing coordinator with Screenvision Media, Olivia knows sports marketing inside and out. Her expertise provides insights not only into Adelphi, but into the sports industry as a whole.
---
After I graduated from Adelphi University with a bachelor's degree in communications in December 2019, I decided to pursue a master's degree in sport management. By earning a master's degree, I would be able to pursue more diverse job opportunities (like my current marketing coordinator position at Screenvision Media) and be qualified for a higher salary later on in my career.
I was confident that the relationships I created with sport management professors as an undergraduate would help me throughout graduate school and into my career. I was able to get a graduate assistant position, which gave me the chance to help contribute to the growth of the program by collaborating on special projects with the sport management program directors. I also developed my graphic design and writing skills, in addition to connecting with alumni and students in the sports industry as a graduate assistant. I also was able to help develop social media accounts for the sport management program and create its first-ever e-magazine.
Adelphi offers specializations in college athletic administration, sport-based youth development and sport marketing. Choosing the sport marketing specialization made sense for me, as my goal was to work in the marketing and events division of a sports and entertainment company. I also needed to understand the sport industry at a deeper level than what I learned in undergraduate courses. In-depth graduate courses like Sport Licensing and Merchandising, Sport Promotion and Sales Management and Analysis of Sport Branding Strategies helped give me a deep dive into the field.
Pursuing graduate school online at Adelphi meant I wouldn't have to leave my position with the New York Islanders. In 2018, as a junior at Adelphi, I began an internship in the Islanders community relations department and was later promoted to a part-time position. I worked during all Islanders home games, making Adelphi's online program perfect for my schedule. The online and self-paced coursework provided me with the best possible academic experience while gaining hands-on experience in the field.
Adelphi is located in the center of the world's sport industry, providing countless internship and job opportunities with the NHL, MLB, NBA, MLS and NFL, to name only a few of the major sport properties that call New York home. Even during my undergraduate years at Adelphi, I was able to take advantage of the University's proximity to an array of elite sport organizations, agencies and facilities. I had internships with Brooklyn Sports and Entertainment (now BSE Global), the sports and entertainment company that oversees the Barclays Center, and Endeavor, the sports and entertainment agency that represents sports talent and owns UFC and Professional Bull Riding.
What separates the Adelphi sport management program is the invaluable expertise that the industry pros on its faculty share in the classroom itself. For example, Professor Greg Bouris has over 40 years of experience in professional sports, working with teams and organizations from the New York Islanders to the Major League Baseball Players Association, where he oversaw all strategic communications for the union's labor relations, licensing and non-profit activities. Professor Frank Supovitz was the head of events for the NHL, where he helped launch the Winter Classic games played at outdoor stadiums. He was head of events for the NFL too, and was on site for the Super Bowl blackout in 2013. Hearing how he handled a blackout during one of the biggest events in the world showed me that though unplanned things may happen during events, the outcome can be successful. A sport management degree from Adelphi will ensure that you have lasting relationships: I'm still in contact with my former professors so I can keep up with the goings-on of the Adelphi sport management program and keep them updated on my own activities.
---
About the Adelphi University MS in Sport Management
The MS in Sport Management at Adelphi University is designed for hard-working, ambitious individuals with a passion for sports. The degree is available online and on campus and includes optional specializations in sport marketing or athletic administration.
At Adelphi, students gain an in-depth understanding of the sport industry with coursework that includes business management, market analysis, budget preparation, sport law, spot marketing and public relations. They also learn how to turn previous athletic experience and interests into professional strengths in order to stand out in the industry.
Our students benefit from the connections they build with their peers and with faculty members who work in the industry. This is a team that will support you throughout your career.
---
Back to articles