---
Breaking Into the Sport Industry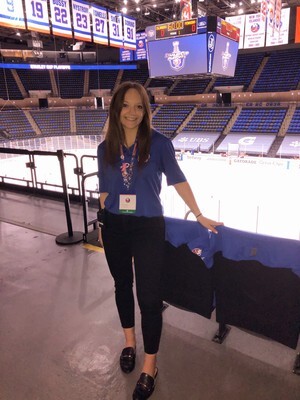 The Master of Science in Sport Management program prepares graduates for a wide range of roles in the industry. Our alumni excel in positions in professional and collegiate sport organizations throughout the tri-state area and across the country, and the program's reach is only continuing to grow. Learn how our program has helped our alumni launch or advance their careers, giving them the knowledge and skills they need to succeed in this highly competitive industry.
Olivia Franks chose Adelphi University for both her undergraduate and graduate degrees. From her internships as an undergrad to her current success as a marketing coordinator with Screenvision Media, Olivia has gained insights into sports marketing that can help anyone interested in launching a career in the industry. For more from Olivia, check out her blog series discussing her experience in the MS in Sport Management from Adelphi University.
During the height of the COVID-19 pandemic, many of us in the sport industry had worries about job security. Sports were the first luxury to be canceled, and no one knew how quickly the industry would recover. In reality, as the country began to stabilize, sports were one of the first forms of entertainment to return. Jobs opened up immediately because companies and teams wanted to revitalize their efforts to provide fans renewed opportunities to see their teams play. The sport and entertainment industry bounced back quickly, as fans rushed back to experience sports action in person.
Many people think that jobs in the sport industry are impossible to find, but that is a myth. There are many opportunities for employment in the industry, especially if you have a degree in sport management.
Thinking outside the box when it comes to applying to jobs is key to breaking into the industry. Those looking to get into the industry have to think beyond the most visible roles in professional sports organizations. Many companies and organizations want to advertise in sports, create relationships with influencers and partner with teams or athletes. Seek out these companies when looking for a job. Fitness brands, financial institutions, streaming services, nonprofits and especially tech companies all want to gain exposure through sport and can benefit from the unique perspective of an employee with a graduate degree in sport management. Peloton, JP Morgan & Chase, Deloitte, Arrow Electronics, Guide Dog Foundation and Lustgarten Foundation are among the many organizations that have recently been in the market for sport industry professionals. Fortune 500 brands want access to young, diverse, passionate sports fans because they know them to be loyal consumers. To reach that audience, they need employees with deep knowledge of the sport industry—how it works and the opportunities that exist within sports to market non-sport brands and services.
Outside of traditional sport employment, up-and-coming specializations are being established as technology advances and the culture around sport evolves. Taking advantage of these opportunities while they are new can provide you with invaluable experience as you move forward into your career. For example, the developing esports industry, along with the legalization of sports betting, are helping create new jobs within established and emerging companies.
Today, there are more points of entry into a career in sport than working for your favorite hometown team. The sport ecosystem has become a global enterprise with many remote work opportunities centering around professional teams, while thousands of other businesses operate successfully by providing goods and services to those organizations and their fans around the world. The opportunities are limitless; your own professional passions will help you find a landing spot in the industry. Adelphi's MS in Sport Management program will provide you with the knowledge, skills and connections that will allow you to stand out in the job market and take advantage of the many rewarding career opportunities in the world of sport.
---
About the Adelphi University MS in Sport Management
The MS in Sport Management at Adelphi University is designed for hard-working, ambitious individuals with a passion for sports. The degree is available online and on campus and includes optional specializations in sport marketing or athletic administration.
At Adelphi, students gain an in-depth understanding of the sport industry with coursework that includes business management, market analysis, budget preparation, sport law, sport marketing and public relations. They also learn how to turn previous athletic experience and interests into professional strengths in order to stand out in the industry.
Our students benefit from the connections they build with their peers and with faculty members who work in the industry. This is a team that will support you throughout your career.
---
Back to articles