---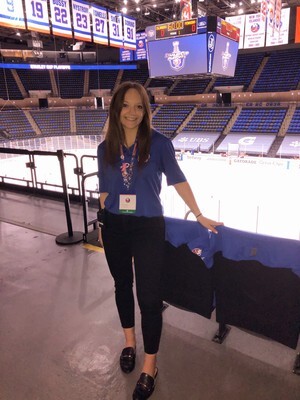 My Internship Experience in Pro Sports
The Master of Science in Sport Management program prepares graduates for a wide range of roles in the industry. Our alumni excel in positions in professional organizations across the tri-state area and the program's reach is only continuing to grow. Discover more about how Adelphi alumni have advanced their careers and continued to use their graduate skills throughout their professional paths.
Olivia Franks chose Adelphi University for both her undergraduate and graduate degrees. From her internships as an undergrad to her current success as a marketing coordinator with Screenvision Media, Olivia has gained insights into sports marketing that can help anyone interested in launching a career in the industry. For more from Olivia, check out her previous blog post on why she chose the MS in Sport Management from Adelphi University.
---
In order to be successful in the sports industry, I knew I needed to gain experience through internships. Applying for internships early on in your college career is important because it's crucial to be in the field learning while studying. Sports and entertainment are very competitive fields and I knew I had to be open to different types of opportunities while staying true to my goals. During my college career, I had three internship roles: campus ambassador with BSE Global, corporate communications intern at Endeavor and community relations intern with the New York Islanders.
From the beginning of college, I knew I wanted to have an internship with the New York Islanders, but I needed to build my résumé first. When I first applied to intern with the Islanders, I was not offered a position. I didn't want to give up on that goal, so I focused on gaining experience in other sports and entertainment roles. At an Adelphi career fair, I found my first internship as a campus ambassador for Brooklyn Sports and Entertainment (now BSE Global, the parent company of Barclays Center and the Brooklyn Nets). In this role, I was able to develop creative marketing skills while promoting Nassau Coliseum events on Adelphi's campus. This internship gave me invaluable insight into the industry and set the tone for my future in sports and entertainment.
After Brooklyn Sports and Entertainment, where I was in a fan-facing role, I moved on to the global sports and entertainment company Endeavor and learned what it is like to be on the corporate side of the industry. This shift was not only interesting, but also valuable to my development: having a variety of positions builds your skill set and prepares you for all scenarios in the workplace.
After my summer at Endeavor, I tried again in fall 2018 for an internship with the Islanders and was offered a position as a community relations intern. The position taught me how to create successful events, fundraise for charities, interact with fans on game days and supervise a volunteer staff.
The support and flexibility of my professors at Adelphi was vital, because I occasionally had to prioritize large Islander events such as the Annual Golf Outing over class. For two seasons, I even teamed up with Professor Daniel Bedard, who played for the Islanders as a practice player and worked for the organization for 20 years, to give Adelphi students game-day volunteer opportunities in my department. Some of my volunteers went on to receive internships within my department. Following my internship, I was promoted to part-time community relations representative with the Islanders. I have since begun a full-time role as marketing coordinator at Screenvision Media, an advertising company that creates ads and content for cinema exhibitors, sports venues, e-gaming and live event platforms. I continue to work Islander game days when I can, though.
I have learned through my various roles how important it is to stay in contact with your supervisors and co-workers. Keeping solid relationships can lead to new opportunities that you wouldn't learn about otherwise. This industry is about making connections and creating a positive experience for fans: you should do the same for yourself too. For me, utilizing the resources at Adelphi, as well as taking on leadership roles in clubs and organizations, truly prepared me for this industry. On-campus clubs can give you event management experience, sharpen your public speaking skills and help you to bond with your peers. I came out of the Adelphi MS in Sport Management completely prepared for sports and entertainment. Adelphi readied me for the workplace, so take advantage of your college experience and make it your own.
---
About the Adelphi University MS in Sport Management
The MS in Sport Management at Adelphi University is designed for hard-working, ambitious individuals with a passion for sports. The degree is available online and on campus and includes optional specializations in sport marketing or athletic administration.
At Adelphi, students gain an in-depth understanding of the sport industry with coursework that includes business management, market analysis, budget preparation, sport law, spot marketing and public relations. They also learn how to turn previous athletic experience and interests into professional strengths in order to stand out in the industry.
Our students benefit from the connections they build with their peers and with faculty members who work in the industry. This is a team that will support you throughout your career.
---
Back to articles