---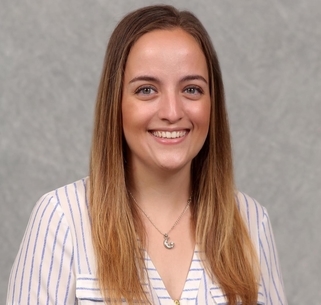 Victoria Chiesa is a content producer and editor for the United States Tennis Association. She helps shape the voice of USTA.com and USOpen.org while also writing about local and grassroots tennis. Victoria is a graduate of the Adelphi MS in Sport Management program, during which she served as Adelphi's coordinator of sports information for the university's 23 athletic programs.
In this alumni spotlight, Victoria talks about writing about sports full time and what it's like to cover one of the biggest tournaments in the world. She also explains how she turned her experience officiating tennis matches into a writing niche that helps her stand out in the sports industry.
Thanks so much for talking with us about your role at the USTA. Could you tell us a little about what you do as a content producer and an editor?
I've been at the USTA since the summer of 2019. I work under the umbrella of the corporate communications department as a member of the editorial team that produces all the written content on USTA.com.
For those not familiar with the USTA and how tennis is structured in the United States, the USTA is the governing body for the sport at both the professional and grassroots levels. Any content that comes out of the national office comes from our desks. We also run USOpen.org, which is the website for the US Open, one of the four major events, called Grand Slams, on the tennis calendar.
My job is very different every day. I like to joke that I live every week in two different time zones: in the Eastern time zone, because I live in New York, and then the time zone of whatever professional tennis tournament is happening that week. And that doesn't even add into the equation the more grassroots and community-focused pieces that I'm working on every week at the USTA.
I have specific departments that I am the liaison to across the organization. One of these, as an example, is wheelchair tennis. During the wheelchair event at the US Open, I work on all the content that comes out of those events, whether it's match recaps, feature interviews with the athletes, anything that would fit in that purview.
Another area I work with directly is officiating. That's something that's close to my heart. I was a tennis player in my youth and my teenage years, and in college and grad school I transitioned into working as an official. I have a unique background for a tennis writer; as a former official, I understand how the officiating world works.
This has afforded me the opportunity to build up a portfolio of feature stories on the subject and get to know a lot of the officials who are traveling on the tour. I think they've liked to be able to speak with me with the understanding that I can relate, at least somewhat, to where they come from.
Tell us more about how you took officiating and turned that strength into a writing niche.
The officiating perspective is often lacking in tennis coverage. For example, when you're watching the Super Bowl, they'll have a person who explains the rules to viewers. But in tennis we don't necessarily have that. Commentators are often former players, so they're going to see it from a player's perspective. And the media isn't necessarily going to know the ins and outs of a 300-page rulebook.
When I was trying to freelance and break into the industry, I saw there was a need for someone who understood officiating. So, I started building my social media brand around that. People knew that if there was an officiating thing that happened, I would be tweeting about it.
I was only an official at the grassroots level, and I used that extra money to pay for books in college. I've been able to marry the two things that I enjoy most about the sport, which was officiating and the writing portion. It's been a perfect fit for me.
What's it like to work on the US Open?
Spending sixteen-hour days for three weeks every summer at one of the biggest sporting events in the world is an incredible experience. I'm fortunate that I was able to work my first event when I was still going to school at Adelphi. This past US Open was my seventh overall at the tournament and my second as a full-timer.
In my job, I talk to a lot of people and learn about their journey in tennis. That's something I've always really enjoyed: earning the trust of people to tell their stories and sharing those stories within this space of a sport that we all love. The US Open is the culmination of all of that at the highest levels, under a global spotlight.
We joke that it's always US Open time at the USTA. At the end of the 2020 tournament, I think it was a week and a half before I heard "2021 US Open."
What is one of the coolest parts of your job?
I get to meet so many amazing people from all over the world, whether it's players, coaches, officials, staff — everybody comes to a tournament from somewhere. We are probably one of the most global professional sports, besides soccer. For 11 months out of the year, players are travelling to different countries to play in tournaments. And every week it's a different story to follow.
Last year at the US Open, for example, we had a wheelchair tennis player from Colombia, Angelica Bernal, who was playing in her first Grand Slam ever. She won her first match and I got to speak to her for the first time. She told me about what she does for kids with disabilities in Colombia, including running a wheelchair tennis school. It was so great to meet someone like that and learn something new and put her story out there.
I feel like I'm constantly learning. To have that opportunity has just been priceless.
What's another key skill that someone needs to thrive in a role like yours?
Communication skills are really important, but not just in the way that you would expect. You obviously want to be communicating well with the subjects you are interviewing, and you must be able to write well, but internal communication is also a big part of it.
I deal with a lot of departments and a lot of moving parts. I'm the bridge between different areas of the organization and I need to be able to communicate with all of them about what's going on and who's working on what. I need to be comfortable asking the social media team for a Facebook post or the creative team to make a graphic for a story.
We have a content team meeting every morning where the departments come together. We talk about what we're working on, whether it's for the day, for the week or for the month. We make sure that everybody is aware of what everybody's got going on.
The tennis ecosystem has grown somewhat more collaborative in recent years, so the USTA also works closely with the sport's other governing bodies when required. That kind of communication is really important.
What made you go back for your master's?
I was an undergraduate student at Adelphi. I got my undergraduate degree in communications and journalism. So, going into my senior year, I really thought that I was going to be a more traditional journalist, in the sense that I might go work for a newspaper. I even interned for Newsday, CBS Sports, CBS Sports Network and World Team Tennis, which is Billie Jean King's flagship tennis league.
Midway through the fall semester of my senior year, I realized that I didn't want to be a traditional journalist. I didn't know where I wanted to go next, and it was like okay, what am I going to do? You're almost done with college!
I was a student employee in the athletic department at the time, and my then-boss, Adam Siepiola, (who teaches in the Adelphi MS in Sport Management) asked me if I had thought about grad school. He told me that the graduate assistantship in sports information would be open starting the next fall. I could stay for two more years at Adelphi, have my master's paid for, and continue to work in collegiate athletics. "Think about it," he said. I left his office that afternoon, called my mom, and was like, "I think I'd be really stupid to not take advantage of this opportunity."
That graduate assistantship later turned into my first full-time job, but I was still afforded chances to pursue tennis jobs on the side.
Everyone at Adelphi was so supportive of me. They let me take a three-week sabbatical every summer to go work at the US Open. That support was invaluable to me.
What advice would you give someone who is considering Adelphi's program?
I think Adelphi's program helps position students for success in a variety of ways.
Firstly, its location in the New York City area gives students access to a variety of opportunities in the industry, from professional sports to community and recreational organizations.
Secondly, it has a high-level Division II athletics program, which is always looking for student employees in sports information, event management and other areas. These opportunities allow students to get hands-on experience in live sporting events, from regular-season games to NE-10 conference and NCAA postseason championships.
Finally, the program's faculty are accessible and have a vast array of experiences and can help students build connections. Dr. Meredith Whitley was someone whose door was always open to me, and I could always count on her to lend an ear and give me advice both personally and professionally. I consider her not only as a mentor from my academic career, but as a friend today.
And what advice would you give to graduates who want to break into the sports marketing industry?
The past year has certainly brought about so many changes and challenges, and the sports industry is not exempt from this. I can't imagine how I would react being a current student on the job hunt right now. I have always maintained this, but especially now, it's really important: all I can say is be flexible and be able to adapt.
It's so important for students to use the resources that are available to them, even if it's as simple as using social media to the best of your ability. Make sure you are doing anything you can to put yourself in a position to succeed.
Along those lines, you can be professional and also be authentic on platforms like Twitter. I don't think they're mutually exclusive. Ultimately, you are a human behind your account.
You want to make sure what you are portraying in that space is what you really are. You can come to my Twitter account for tennis news and updates and tweets about tennis officials. But I might also tweet about the TLC reality show #90dayfiance.
It's important to be authentic and be true to yourself on those platforms, because ultimately, that's what really helps you down the line when you meet people who have been part of your audience online.
Keep your eyes open and your ears open to opportunities that are out there. Don't get discouraged if someone tells you no — I always say if you dwell on the person who tells you no, you're going to miss the person who will tell you yes.
---
About the Adelphi University MS in Sport Management
The MS in Sport Management at Adelphi University is designed for hard-working, ambitious individuals with a passion for sports. The degree is available online and on campus and includes optional specializations in sport marketing or athletic administration.
At Adelphi, students gain an in-depth understanding of the sport industry with coursework that includes business management, market analysis, budget preparation, sport law, spot marketing and public relations. They also learn how to turn previous athletic experience and interests into professional strengths in order to stand out in the industry.
Our students benefit from the connections they build with their peers and with faculty members who work in the industry. This is a team that will support you throughout your career.
---
Back to articles