---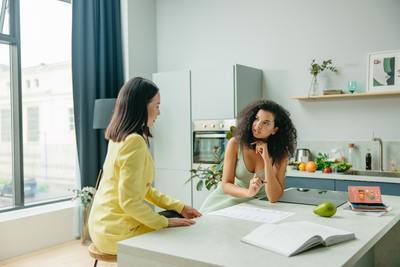 A widely shared concept of nutrition is that the smallest change in one's habits can lead to incredible results. We've recently seen it crop up in the wellness industry, with people rejecting processed health foods and diet shakes in favor of fresh, natural ingredients. High schools and colleges are emphasizing the importance of nutrition as well, encouraging better diets among their student athletes. One student interviewed by The New York Times said that simply replacing red meat and processed foods with healthier alternatives and increasing his water intake led to improved muscle endurance and fewer cramps.
Such a simple adjustment encourages us to consider the ways that comprehensive expertise in nutrition and sports nutrition can significantly improve peoples' health and performance outcomes.
A master's degree in nutrition dives deep into the ways nutrition and diet affect the health of individuals and communities. These programs cover how nutritional needs vary across the human lifespan, nutrition's impact on chronic diseases and effective ways to educate the public on healthy food and exercise choices.
A master's degree in sports nutrition narrows this approach, showcasing how diet and nutrition affect athletic performance and recovery. Students learn how to counsel individual athletes and teams on diet and exercise plans that support their unique fitness needs.
In this article, we'll compare a master's in nutrition and a master's in sports nutrition, contrasting the different degree requirements, curricula and career opportunities they open. Our goal is to help you choose between a comprehensive program that opens a variety of career opportunities and a focused pathway for a career in a specific industry.
---
Admission Requirements
Requirements for admission are similar for both master's in nutrition and master's in sports nutrition programs. To start, you'll need to have earned a bachelor's degree from an accredited college or university. Minimum GPA requirements vary among colleges, but most request anywhere from a 2.5 to a 3.0 on a 4.0 scale.
Your degree doesn't have to be in a health-related discipline, though such a background is valuable. If your degree is outside of the health sciences, you'll be asked to take prerequisite courses before the program starts. These courses include but aren't limited to anatomy, physiology, chemistry and biology.
Master's In Nutrition/Sports Nutrition Admission Requirements Summary
Bachelor's degree from an accredited college or university
Minimum GPA
Undergraduate degree or prerequisite in health, anatomy, physiology, chemistry and biology
---
Curriculum
Nutrition
A graduate-level nutrition curriculum covers the diet and nutritional needs from infancy to late adulthood. Students learn how a person's health needs change as they age, the effects of genetics, and how individual nutrition impacts public health outcomes.
This wider focus allows for a greater variety of career applications, preparing graduates to find jobs in areas like public health, private practice, government organizations, nonprofit groups, research and schools. Much of the information studied will be beneficial to careers in sports nutrition, and graduates are at least partially eligible for certification programs such as:
Certification
Certifiying Organization
Eligibility Requirement
Master Sports Nutritionist
The National Association of Sports Nutrition

An Advanced professional degree in a healthcare field that incorporates a four-year degree with sufficient science and nutrition hours
A score of 90 percent or better on the Primary Sports Nutritionist Board exam

Sports Nutrition Specialist
International Society of SPorts Nutrition

Working knowledge or basic exercise training, general nutrition, and sports supplements
Familiarity with the ISSN's current position papers
High school diploma or its equivalent

Certified Sports Nutritionist
International Society of Sports Nutrition

A 4-year undergraduate degree in a health- or sports nutrition-related discipline OR
A 4-year undergraduate degree in an unrelated field with a recomended college-level education in nutrition, sports nutrition, or a similar course
Subjects covered in a nutrition master's degree program include:
Advanced human nutrition
Nutritional needs through the human lifespan
Nutrition and chronic diseases
Nutrition and community health
Nutritional education and communication

Sports Nutrition

A master's in sports nutrition curriculum combines nutritional science with exercise physiology to cover the nutritional needs of athletes. Students learn how energy is produced in the body, how muscles are developed and deteriorate, how repeated physical stress affects different parts of the body, and the effects of nutrition on an athlete's career and post-career health.

This specific focus means that certain aspects of nutritional science, such as age-related needs and chronic disease prevention, aren't covered in these programs. Athletes aren't immune to these and other conditions, so sports nutritionists may need to supplement their training with additional classes or certifications, gaining knowledge that is covered in a master's in nutrition program.

Subjects in a master's in sports nutrition program include:

Kinesiology
Exercise science and physiology
Nutrition and performance
Diet and nutritional planning

---

Career Outlook

Between the rapid rise of boutique fitness studios, healthy-living influencers and wellness-focused startups, it's clear that consumer demand is high for knowledgeable diet and nutrition experts. Estimates from McKinsey & Company value the global wellness market at more than $1.5 trillion, and the U.S. Bureau of Labor Statistics projects employment for dietitians and nutritionists to grow at a faster-than-average rate of 11 percent between 2020 and 2030. Many of these jobs are suitable for both nutrition and sports nutrition graduates, although the former will likely have more career flexibility.

Careers for graduates with a master's in sports nutrition include:

Registered Sports Dietitian: Creates diet and exercise plans for individual athletes and teams, and monitors their progress. Requires further training, including course and field work accredited by the Accreditation Council for Education in Nutrition and Dietetics (ACEND).
Personal Coach: Works one-on-one with athletes to improve performance during games and competitive meets.
Exercise Physiologist: Develops careful health and exercise programs to help athletes recover from injuries.
Fitness Entrepreneur: Combines fitness and business expertise to create and market unique fitness solutions such as boutique studios, workout gear and equipment, and online exercise classes.

Professionals with an MS in nutrition may find that their education prepares them well for the above careers, or find that they need only a small number of classes — rather than a separate degree — to become eligible. Still, an MS in nutrition prepares graduates for professions outside of sports nutrition as well. Additional careers for graduates with a master's in nutrition that are outside of the field of sports include:

Health Educator: Develops campaigns to spread awareness on the impacts of diet, exercise and other health-related matters. Often employed in schools, government agencies or hospitals.
Public Health Administrator: Oversees operations in public or private health departments with the overall goal of improving community health.
Health Researcher: Analyzes medical data to uncover noteworthy trends in public health or discover new treatments.
Sports Nutritionist: A master's degree in nutrition can help job-seekers find careers in sports nutrition, although additional training may be required for certification.

---

Adelphi University's Online MS in Nutrition

No matter which nutritional career path interests you, the online MS in Nutrition can help you achieve your goals by providing a streamlined curriculum concentrating on the skills and knowledge that both reflect the latest nutrition science research and align with current career opportunities. The program is geared toward busy working professionals in health or health-related fields who want to expand their knowledge so that they can more effectively help others and/or earn a professional credential that is required for employment or career advancement.

---


Back to articles