---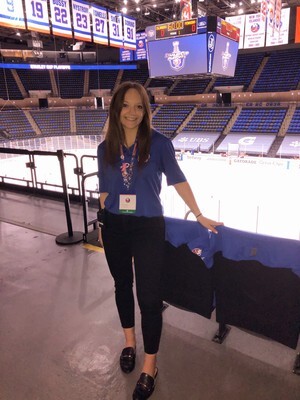 The Master of Science in Sport Management program prepares graduates for a wide range of roles in the industry. Our alumni excel in positions in professional and collegiate sport organizations throughout the tri-state area and across the country, and the program's reach is only continuing to grow. Learn how our program has helped our alumni launch or advance their careers, giving them the knowledge and skills they need to succeed in this highly competitive industry.
Olivia Franks chose Adelphi University for both her undergraduate and graduate degrees. From her internships as an undergrad to her current success as a marketing coordinator with Screenvision Media, Olivia has gained insights into sports marketing that can help anyone interested in launching a career in the industry. For more from Olivia, check out her blog series discussing her experience in the MS in Sport Management from Adelphi University.
---
In this alumni blog series, I have discussed the practical aspects of earning your degree in sport management, including getting involved in your program at Adelphi, pursuing different internship opportunities and hunting for a job that's right for you. But what happens once you've graduated and found a job you're excited about? I created a list of points to remind myself of as I advance in my career. These keep me on track in my day-to-day life so that I am making the most of my sport management education.
Make Yourself Useful
It's easy to get lost in the crowd when applying to jobs at competitive companies, so you have to find a way to stand out and make yourself known. I've found that offering your help to your supervisors and co-workers helps tremendously when it comes time to make promotion decisions. For example, when I was a New York Islanders intern, I would recruit volunteers from Adelphi for the 50/50 raffle. Because I took the initiative to work on the raffle, I was promoted (out of 11 interns) to one of two part-time roles. At the time, I offered to help recruit volunteers from Adelphi because I thought it would be easy for everyone (the Adelphi campus is a short commute to Nassau Coliseum), but I later realized it was incredibly helpful to my manager, who had one less thing to worry about on game days.
Making yourself a necessary and integral part of every day pays off. Employers take notice when you go out of your way to be a useful employee, and that kind of initiative matters when employers make big decisions. Being helpful looks different for everyone depending on their strengths, you can figure out what you can bring to the table in each unique situation.
Set Goals for Your Growth
The last thing you want to do is become stagnant and complacent in your role. Speak to your managers and dedicate time to talk about your professional growth, goals you want to set and what you want to achieve at your organization. If you communicate your interests in certain fields and skills, your manager can help to give you interesting assignments or projects you're passionate about. If you don't know where to start, ask to schedule a one-on-one meeting with your managers to discuss your strengths and weaknesses. They will appreciate your initiative to improve yourself.
However, you can't think only about your own growth as an employee. Though you hope to grow in your role and get promotions, you must survey your company as time goes by. If it seems that you are not continuing to advance in your role even after achieving milestones, then it may be time to take your talents elsewhere. If you are in a position that your company values, your goals will be appreciated by your superiors. You are helping their brand grow as you gain experience, take on projects and challenge yourself.
Be Kind and Approachable
As with everything in life, you should treat others how you would like to be treated. When I am a lead on events, I do my best to show my appreciation for work done by members of my staff. Doing this will help as you grow in your role, take on more responsibilities and become a manager of others. I recently hired temporary staff members for an event I hosted, and I made sure to communicate how valuable these employees were to the agency we contracted them from. The staff made guests feel welcome at the event and answered questions guests had efficiently and effectively. They helped the event run smoothly, so I wanted to make sure they were rewarded in the end. If I were in their shoes, I would have wanted someone else to notice my efforts.
Be a Team Player
When working in the sport and entertainment field, you're a team member both on and off the field. This goes hand-in-hand with encouraging fairness. Helping your coworkers and collaborating with others will get the job done correctly and efficiently. Our field is different from other jobs because we often can actually see the results of our work. If the team you work for is playing well on the field, you feel the success with your co-workers. It builds camaraderie. Whether it be an activation during a game, an event or a positive interaction with a fan, our goal is to create memories for people. We were fans first; that's what drew us to the profession in the first place. Remembering this will help us throughout our careers.
Regardless of your passion for your career, it's easy to sometimes forget your purpose: creating memories for fans and giving them an experience they will remember. These reminders help me in my current role, and I am grateful to Adelphi for paving the way to learn and grow in the sport industry.
---
About the Adelphi University MS in Sport Management
The MS in Sport Management at Adelphi University is designed for hard-working, ambitious individuals with a passion for sports. The degree is available online and on campus and includes optional specializations in sport marketing or athletic administration.
At Adelphi, students gain an in-depth understanding of the sport industry with coursework that includes business management, market analysis, budget preparation, sport law, sport marketing and public relations. They also learn how to turn previous athletic experience and interests into professional strengths in order to stand out in the industry.
Our students benefit from the connections they build with their peers and with faculty members who work in the industry. This is a team that will support you throughout your career.
---
Back to articles