---
Art education careers offer uniquely fulfilling opportunities to share the power of creative expression with others and help them discover inspiration. And, as an art teacher, you are uniquely positioned to make a difference in students' lives.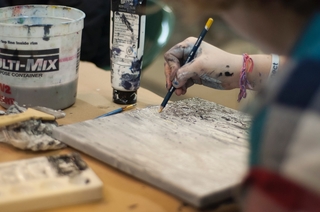 For example, a report from the National Endowment for the Arts suggested that opportunities to explore creativity may have positive outcomes for at-risk young people. Drawing on data from the U.S. Department of Education and Department of Labor, the study linked participation in the arts with higher overall academic performance and lower dropout rates for children and young adults of low socioeconomic status.
If you're considering pursuing a graduate degree before embarking on a career in teaching art, you probably have some questions like, "What can I do with a master's in art education?" It's important to consider not only the roles available to art educators, but the skills and qualifications you'll need to excel.
---
What Can You Do with an Art Education Degree?
After earning your degree and any required certification, you may start an art teaching career in various settings and at different grade levels. It's important to find the right fit for your interests and strengths as an educator. Some of the possibilities include:
Pre-K-12 Art Teacher
Many art education graduates go on to work in public, private or charter schools. Classes may take place during the regular school day or as part of an after-school program. In some cases, teachers travel between multiple schools in a district, especially at the elementary level.
Teachers must carefully tailor lessons to fit the setting as well as their students' ages and levels of development:
In elementary schools, classes generally focus on spurring kids' interest in the arts by presenting basic skills in drawing, painting and crafts
In middle school, instructors introduce some of the major movements in art history, the elements of art and basic techniques like perspective drawing
High school art courses focus on specialized areas such as painting, photography, ceramics, or video production. The curriculum may examine theoretical concepts and allow students more time to work on their projects independently.
Pre-K-12 art teacher requirements differ by state. To work at most schools, instructors must complete a degree in art education from an accredited university, pass state exams that test their knowledge of art and teaching principles and receive a state certificate or license.
Postsecondary Art Teacher
Postsecondary teachers work with students in specialized areas like painting, drawing, graphic design, photography sculpture, animation, media arts or art history. Instructors at this level are often professional artists themselves, and you may find that teaching at a college or university brings you the flexibility to spend more time on your own practice. Many instructors in community and junior colleges are adjunct faculty–non-tenure-track professors who work on limited contracts–and they often have opportunities to teach courses online.
Museum Educator
Art museums offer educational programs geared for a variety of audiences. Educators lead groups of children, college students or adults in learning about pieces featured in the collections and completing their own projects. Museum staff may also host workshops for K-12 educators and collaborate closely with classroom teachers in developing engaging programs for their students.
Community Art Programs
Community-based programs can be a powerful way of encouraging people of all ages and from a variety of backgrounds to connect with creative expression. An arts center can be a vibrant place that exhibits the work of local makers and hosts events like lectures and musical performances. In this setting, educators may guide participants through the steps of creating their own pieces, provide lessons in art history or interpretation and manage programming.
---
Art Education Average Salaries
| Job Title | Median Salary |
| --- | --- |
| Kindergarten and Elementary Teachers | $56,900 |
| Middle School Teachers | $57,720 |
| High School Teachers | $59,170 |
| Postsecondary Art, Drama and Music Teachers | $78,720 |
| Museum Workers | $47,360 |
Source: U.S. Bureau of Labor Statistics
---
Why Get a Master's in Art Education?
Building skills
Educators can learn valuable techniques and strategies by completing a master's program focused on the challenges of teaching art in today's classrooms. While earning an advanced degree you can:
Explore the latest thinking in art pedagogy
Develop your teaching philosophy and individual voice as a teacher
Adapt your lessons to meet the needs of different developmental stages
Find effective ways to incorporate technology into your lessons
Opening career opportunities
A graduate degree can mean more possibilities to start and advance in art education jobs, especially at the college level. According to the U.S. Department of Labor, a master's is necessary for 55 percent of postsecondary art, music and drama teaching positions. An advanced degree may also help educators take on leadership roles, such as chair of an academic department, director of a community arts center or manager of a museum education program.
---
About Adelphi's Online Master of Arts in Art Education
Adelphi University's online Master of Arts in Art Education (M.A. in Art Ed) program is suitable for recent college graduates, current teachers or career changers. By the time you graduate this two-year program, you'll be ready to complete the requirements of New York State Visual Arts Pre-K–12 teaching certification.
Along the way you'll learn methods for nurturing creativity through flexible online courses taught by experienced faculty, customizing your curriculum with a wide range of electives. By completing hands-on fieldwork anywhere in the State of New York, you'll put the concepts you've learned to work in the classroom.
---
Back to articles