---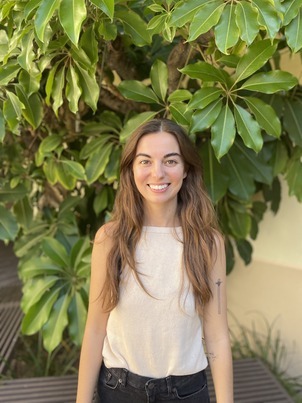 Meet Krissy Dove and Ryan Sobeck, two Adelphi MA in Educational Technology graduates whose career paths have taken them into very different fields: agriculture and academia.
They are great examples of how EdTech skills can be used in a wide range of industries. While many Adelphi graduates work at K-12 or postsecondary schools, others go on to roles in corporate, government or nonprofit environments. Their career paths show that engaging, effective teaching that respects the learners' needs goes beyond classroom settings.
In this two-part interview series, Ryan and Krissy share how the EdTech master's program led to their current roles and how they use the skills they've learned in their day-to-day work. Krissy's interview is below and you can read Ryan's interview here.
—
Krissy Dove graduated with her MA in Education Technology from Adelphi University in 2021 and is now the Stewardship Program manager at Kiss the Ground, a nonprofit promoting the growth of regenerative agriculture, farming and grazing practices that help reduce climate change.
"Whether it's working directly with our online course material, optimizing the larger-scale student learning experience on our learning management system (where our content lives), or designing communications across all forms of media to support and facilitate our community, I find myself using all the theoretical and pragmatic material I was introduced to in Adelphi's EdTech program."
Let's start with your professional path. Were you working while you earned your MA in EdTech?
Yes, I was working for Adelphi University's Office of Admissions on the operations team while I was enrolled in the online EdTech program. I was able to apply what I was learning about instructional design directly to my workplace, primarily within contexts such as staff training and support.
What was your next job move after Adelphi University?
It's always been my goal to work at the intersection of environmental advocacy and education, and moving into my next role as the assistant director of the Broadway Green Alliance set me precisely on that path.
At Broadway Green Alliance, I aided in the implementation of greener practices on Broadway and in theater programs across the country. I designed content and resources for the web, communications and social media. Most notably in that role, I co-authored and assisted in the design of "Reduce, Reuse, Reopen: Backstage Toolkit" ahead of Broadway's much anticipated return from its COVID-19 pandemic closures.
All my professional experiences in operations, communications and environmental advocacy, in conjunction with my studies within the EdTech program, were integral to my arriving at my current role at Kiss the Ground.
Tell us more about Kiss the Ground. How are you using your environmental studies background and your educational technology knowledge in your role?
The mission of Kiss the Ground is to awaken people to the possibilities of regenerative agriculture and inspire participation through media, communications, education, workshops, immersive programming and advocacy.
I manage Kiss the Ground's Stewardship Program. Our Stewardship Program engages and empowers existing and emerging leaders within the regenerative agriculture movement. I oversee the educational platform and its online course operations (including both synchronous and asynchronous components) as well as student and graduate community engagement and many other freestanding educational resources and initiatives.
Advocating for regenerative farming practices in this way harkens back to my roots (pun intended) studying abroad in Costa Rica with Adelphi as an undergrad, when I first learned about the critical importance of healthy soil. It was this trip with the Levermore Global Scholars program that inspired me to change my major to environmental studies. As you can imagine, this role at Kiss the Ground is very mission-driven and closely aligned with both my master's in EdTech and my bachelor's in environmental studies.
An exciting and gratifying part of my role is supporting graduates of our Soil Advocate Training course. Through this course, they become local leaders who are empowered to amplify action around the 2023 Farm Bill through the national campaign Regenerate America™.
What skills from the EdTech master's program are you using most at Kiss the Ground?
Whether it's working directly with our online course material, optimizing the larger-scale student learning experience on our learning management system (where our content lives), or designing communications across all forms of media to support and facilitate our community, I find myself using all the theoretical and pragmatic material I was introduced to in the EdTech program.
Sometimes this equates to employing the "hard skills," such as multimedia editing software, and other times it equates to adapting the pedagogical principles and critical frameworks for the benefit of a more equitable and universally accessible learning environment.
The importance of digital literacy and citizenship, as well as being an advocate for both in any position of instruction or communication, is more apparent than ever.
I'm also very proud to have worked with the incredible team within Adelphi's Learning and Writing Centers for my thesis project, in which I developed a self-paced virtual tutor training program on Moodle. It helped me gain more experience working on a learning management system!
Why did you decide to pursue a degree in educational technology? And why did you select Adelphi's online program?
The more I learned about the Adelphi EdTech program and the holistic nature of its course tracks, the more I saw the connection between instructional design and the kind of advocating-through-educating work I had always seen myself doing, regardless of whether or not that meant working within a more traditional academic setting.
Earning my degree fully online was a conscious decision to this end, too. The online format was more aligned with the kinds of learning environments I want to be immersed in and hope to operate in professionally.
What are some of the most valuable skills you gained in the master's program? And did these skills and/or the program overall help you get your new job?
As far as hard skills go, my path through the program led me through valuable hands-on experiences with projects involving graphic design, video editing, audio editing, basic programming and web development. These projects gave me meaningful exposure to facets of instructional pedagogy and the learning sciences, which really broadened my horizons.
The degree itself plus the work I put into earning it were direct contributors to my being hired in my current role.
What tips do you have for someone who is deciding whether Adelphi's MA in EdTech program is right for them?
I can't say enough about Aaron Chia Yuan Hung, Matthew Curinga and all of the professors who facilitate this program and its courses. So, my best tip for someone who is deciding whether it's right for them is to do exactly what I did—reach out to Aaron or Matt directly, and have a chat about your thoughts, goals, etc. This will also give you some insight into the kind of one-on-one care they provide throughout the duration of the entire program.
Meet another Adelphi MA in EdTech alum: Ryan Sobeck, assistant director of educational technology at Yale University's Poorvu Center for Teaching and Learning
About Adelphi's Online MA in Educational Technology
The Master of Arts in Educational Technology from Adelphi University is an innovative program that provides a theoretical and practical background in technology-supported learning.
Our fully online graduate degree offers a balance of hands-on training, computer programming and knowledge about teaching and learning.
The only admissions requirement for the MA in EdTech is a bachelor's degree in any subject. As a result, our online program attracts individuals from a broad range of educational and professional backgrounds including teaching, instructional design, library science, communications, web design, software engineering and computer science. Our students include newcomers to the field as well as professionals looking to change careers or expand their skills.
To learn more about the online MA in EdTech, download our program brochure. You can also talk with an enrollment counselor at 888.252.4110.
---
Back to articles