---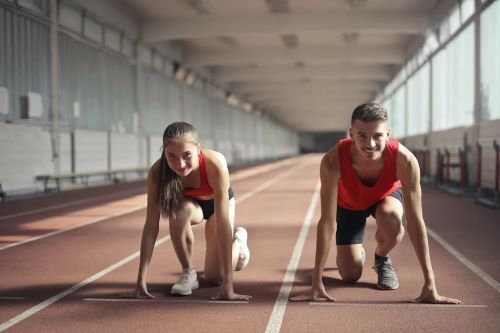 The average American woman earns 83% of what an average American man earns, according to the Bureau of Labor Statistics. This stark disparity has hardly budged for over a decade: the pay gap between men and women has sat between 80% and 84% since 2004.
The gap varies by industry, according to Payscale: the legal profession has the worst discrepancy at 61%, while arts, entertainment and sports comes in well above average at 96%. While this is heartening for advocates of equal pay, there is still progress that needs to be made—especially when it comes to professional sports.
With new developments ahead, we are taking a look back at how athlete compensation has changed over the past ten years, comparing average salaries of men and women across sports like basketball, soccer and tennis. While many steps have been taken in pursuit of equal pay, inequality continues to exist.
Sport management professionals have the knowledge, skills and ability to enact meaningful change in the sports industry. Executives in the industry have the opportunity to directly improve the salary of female athletes, and employees in more junior positions can be strong advocates for women's equity in sports.
The Gender Pay Gap in Sports
Each league and sports organization has its own structure of compensation and benefits. But, while the level of pay varies from sport to sport, a look at five popular American sports shows a common reality: female athletes consistently make less than men.
Average Athlete Compensation by Gender

| Sport | Men | Women |
| --- | --- | --- |
| Basketball (NBA & WNBA) | $10,776,383 | $113,295 |
| Golf (PGA & LPGA) | $1,042,917 | $346,360 |
| Soccer (MLS & NWSL) | $471,279 | $54,000 |
| Tennis Top 100 (ATP & WTA) | $1,589,024 | $1,039,141 |
Sources: Golf (PGA, & LPGA); Basketball, (NBA, WNBA); Soccer (MLS, NWSL); Tennis (ATP, WTA)
Whether professional players receive salaries or individual prize money from competitions, male athletes in basketball, golf, soccer, baseball and tennis make anywhere from 15% to nearly 100% more than female athletes. While compensation for women has improved over the past decade, the gap still extends to even the world's highest-paid players.
To learn more about the Adelphi University MS in Sport Management program, download a brochure.
Top-Paid Female Athletes vs. Male Athletes
In 2012, boxer Floyd Mayweather made 103% more than tennis player Maria Sharapova. In 2022, little had changed: soccer star Lionel Messi made 87% more than tennis star Naomi Osaka.
Forbes' Top-Paid Athletes by Gender*
2012
2022
Men
Floyd Mayweather, $85 million
Manny Pacquiao, $62 million
Tiger Woods, $59.4 million
LeBron James, $53 million
Roger Federer, $52.7 million
Lionel Messi, $130 million
LeBron James, $121.2 million
Cristiano Ronaldo, $115 million
Neymar, $95 million
Stephen Curry, $92.8 million
Women
Maria Sharapova, $27.1 million
Li Na, $18.4 million
Serena Williams, $16.3 million
Caroline Wozniacki, $13.7 million
Danica Patrick, $13 million
Naomi Osaka, $51.1 million
Serena Williams, $41.3 million
Eileen Gu, $20.1 million
Emma Raducanu, $18.7 million
Iga Świątek, $14.9 million
*Earnings include salary, prize money and off-field endorsements.
Source: Forbes (men 2012, 2022; women 2012, 2022)
While the pay disparity didn't change, there is one aspect of the Forbes top-ten list that did. In 2023, the top ten highest-paid women were all tennis players, whereas a decade ago, the list included women in NASCAR, ice skating and golf. Tennis has made moves to increase equal pay between their male and female players, and today all four major tennis tournaments offer equal prize money. This is just one of the ways that professional sports are working to improve pay inequality. But as recent lawsuits and even X (formerly Twitter) battles show, we still have a ways to go.
Let's take a closer look at the professional athlete salary statistics for three sports that have made headlines when it comes to the gap in professional pay: basketball, soccer and tennis.
---
Soccer
Bloomberg News recently touted soccer as "the future of sports in America," and soccer fandom has clearly grown within the United States. In 2018-19, the federation reported total revenue of $115,128,170, a growth of 160% over the last decade. In 2019, 14 million people watched the U.S. Women's National Soccer team defeat the Netherlands to win the FIFA Women's World Cup—10.5 million more viewers than their 2001 finals appearance.
But with all this growth, are the earnings of men and women in line?
U.S. Professional Soccer Leagues Comparison
Major League Soccer played their first game in 1996, after the United States hosted the 1994 FIFA World Cup. The National Women's Soccer League played their first game in 2013, following the end of the Women's Professional Soccer league the previous year. Both leagues have a salary cap, meaning each team has a limit on how much they can pay their players and some limits on how they can divide that pot of money.
MLS vs. NWSL Salaries
2013
2023
MLS
Minimum: $46,500
Maximum: $600,000*
Team salary budget: $2,950,000
Minimum: $85,444
Maximum: $651,250*
Team salary budget: $4,900,000 $5,210,000
NWSL
Minimum: $6,000
Max: $30,000
Team salary budget: $200,000
Minimum: $36,400
Max: $200,000
Team salary budget: $1,375,000
*Does not include designated players or targeted allocation money.
Source: MLS 2013; 2023; NWSL 2013, 2023
While both men's and women's soccer players are seeing salary increases alongside the sport's rise in popularity, men still far out-earn women. That gap is narrowing slightly, however. Since 2020, the league difference in the salary budget gap decreased by 30%.
There is still quite a ways to go to close this gap, but the NWSL is continuing to make changes to offer more competitive compensation.
FIFA World Cup Prize Money
The pay disparity in professional soccer exists at an international level as well. In 2023, the teams in the FIFA Women's World Cup shared a $110 million prize pool, equal to about a quarter of the men's prize pool for the 2022 World Cup.
Men's World Cup Prize Money vs. Women's World Cup Prize Money

| | 2010/2011 | 2018/2019 | 2022/2023 |
| --- | --- | --- | --- |
| Men's World Cup | $420 million; $30 million winner's share | $400 million; $38 million winner's share | $440 million; $42 million winner's share |
| Women's World Cup | $5.8 million; $1 million winner's share | $30 million; $4 million winner's share | $110 million; $10.5 million winner's share |
In 2019, FIFA announced that they would spend $1 billion on women's soccer over a period of four years. For the 2023 World Cup, FIFA more than tripled the women's prize pool to over $100 million, significantly exceeding their original proposal of $60 million But many players say this is not enough.
US Women's National team versus U.S. Soccer
While MLS and the NWSL have only been around for a few decades, the United States has fielded national soccer teams in World Cups since 1930 (US Men's National Team) and 1991 (US Women's National Team). Since then, the women's team has won four FIFA Women's World Cup titles. Until 2018, the men's team qualified for the World Cup every year since 1990, but has not won a championship.
For much of the decade, the US Women's National Team and the U.S. Soccer Federation have clashed over equal pay. Some major moments in this dispute include:
2016: Five USWNT players filed a wage-discrimination complaint with the Equal Employment Opportunity Commission. The EEOC never published a response, but the players received a 30% raise among other benefits in 2017.
2018: Twenty-eight USWNT players joined a wage discrimination class-action suit against U.S. Soccer.
2022: The USWNT reached a $24 million settlement with the U.S. Soccer Federation, short of the $67 million they were seeking. This agreement ensures that men and women will be paid at an equal rate going forward.
The New York Times compiled a full timeline of the USWNT's negotiations with U.S. Soccer over the years.
---
Basketball
Every year since the Women's National Basketball Association's inaugural season in 1997, the highest-paid women's basketball player has earned less than the lowest-paid National Basketball Association player. In the 1997-98 season, NBA rookies made 176% more than WNBA rookies. And while that gap narrowed slightly at the start of the 2010s to 172%, it widened again by the end of the decade to 182%.
NBA vs. WNBA Salaries
2002-2003 Season
2012-2013 Season
2022-2023 Season
NBA

Minimum salary: $349,000
Maximum salary: $25,200,000

Minimum salary: $474,000
Maximum salary: $27,849,149

Minimum salary: $953,000
Maximum salary: $45,780,966

WNBA

Minimum salary: $30,000
Maximum salary: $79,000

Minimum salary: $36,570
Maximum salary: $105,000

Minimum salary: $60,000
Maximum salary: $234,936
The starkest gap remains at the very top. Golden State Warriors player Stephen Curry was on track to make more than $50 million in salary alone during the 2023-24 season. In the same year, Jackie Young, the highest-paid WNBA player, was eligible for a base salary of $252,450, a difference of almost 200%.
However, the past decade has seen some attempts to narrow that gap. In 2009, the WNBA started to allow sponsorship on jerseys in order to boost revenue, a move that the NBA repeated in 2017. In 2016, ESPN doubled their rights fee to show WNBA games, paying $25 million a year. And in 2019, CBS Sports made a deal to pay for additional games. But one of the biggest moves was the WNBA's 2020 collective bargaining agreement.
Revenue Sharing and the 2020 Collective Bargaining Agreement
For years, another major difference in compensation came in the form of revenue sharing. NBA players receive about 50% of the league's revenues. Up until 2020, the WNBA received 20% of their league's revenues. That changed with a new collective bargaining agreement, reached in January of 2020, which agreed to a 50-50 split and brought WNBA players in line with their male counterparts
The 2020 agreement was also a big step forward in terms of WNBA players' salary potential. For the first time, the average salary reached six figures.
2020 WNBA Collective Bargaining Agreement Salary Boost
WNBA 2019-2020 Season
WNBA After 2020 CBA

Rookie salary: $41,965
Three years: $56,375
Veteran players: $115,000
Salary cap: $117,500

Average: $75,000

Rookie salary: $57,000
Three years: $68,000
Veteran players: $185,000
Salary cap: $215,000

Average: $130,000
Source: Women's National Basketball Players Association (2019, 2020)
2020 brought unexpected changes to both the NBA and the WNBA, with both leagues' seasons affected by the COVID-19 pandemic. Both men's and women's basketball used the unusual circumstances to play with online options and enhance the at-home fan experience, and the WNBA saw its highest draft viewership in 19 years during the 2023 draft.
---
Tennis
Tennis is one of the few sports where women in the United States, on average, make more than men. Internationally, however, the men still come out ahead.
Outside the majors, the average earnings of U.S. women ranked by the Women's Tennis Association were higher than the U.S. men in the Association of Tennis Professionals. At both the start and end of the decade, the top female player in the United States made more than the top male player.
ATP vs. WTA Average Earnings (Top 10)

| | 2012 | 2022 |
| --- | --- | --- |
| ATP (Top 10) | $4,851,162 | $7,049,054 |
| WTA (Top 10) | $4,002,111 | $3,836,428 |
Sources: Tennis.com (ATP 2022; WTA 2022)
Gender equity in tennis has been in the spotlight for decades, stretching back beyond Billie Jean King's threat to boycott the 1973 U.S. Open. Over the span of 34 years, the four major tennis tournaments (U.S. Open, Australian Open, French Open, Wimbledon) decided to pay their men's and women's winners equally.
Another sign of growth toward pay equality is that tennis players from both the ATP and WTA have come together to campaign for a larger share of tournament revenues. Their hope is that by moving closer to a 50-50 split, common in other pro sports, they can increase salaries for all players, male and female. In 2023, the WTA made new commitments to award equal prize money to men and women. The plan will increase payouts for professional female tennis players, ensuring equality in compensation within a decade:
By 2027, WTA 100 and WTA 500 tournaments will award the same amount of prize money as ATP 100 & 500 events.
By 2033, all WTA tournament prize money will be equal to ATP prize money.
---
You Can Shape the Future of Sport Salaries
The MS in Sport Management at Adelphi University is designed for hard-working, ambitious individuals with a passion for sports. The degree is available online and on campus and includes optional specializations in sport marketing or athletic administration.
At Adelphi, students gain an in-depth understanding of the sport industry with coursework that includes business management, market analysis, budget preparation, sport law, sport marketing and public relations. They also learn how to turn previous athletic experience and interests into professional strengths in order to stand out in the industry.
Our students benefit from the connections they build with their peers and with faculty members who work in the industry. This is a team that will support you throughout your career.
---
Back to articles