---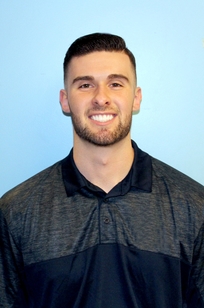 Bryan Flannery is a public relations coordinator for the New York Liberty and a recent graduate of the Adelphi MS in Sport Management program. He's working with the WNBA team to celebrate a landmark 25th-anniversary season that comes right on the heels of one of the most unusual years in the association's history.
In this alumni spotlight, Bryan talks about what it's like to work in PR for the WNBA, how he balanced a full-time job with a graduate program and how Adelphi students can make the most of their courses to better position themselves for industry roles.
To get started, tell us a little about what you do as a public relations coordinator. What are some of your main job responsibilities?
My job involves a few different roles and responsibilities. First, contact with the media is a very big part of what I do. If anyone wants to interview a player, I may serve as the liaison between the writer or reporter and that player.
The media side is really important in the WNBA. As we know, women's sports still have a media coverage issue with female athletes getting only 4% of all sports coverage. We're really doing everything we can to generate as much media and get as many eyes as possible on the WNBA and the New York Liberty. That's a big part of what I do.
The second part of my role is basketball-specific. Going into the season, you have to create media guides and game notes — these are the sorts of things that fall under the PR umbrella. On a daily basis, I'm really working hard to make sure everything is up-to-date.
Lastly, there is also a corporate communications side to this, which can include community outreach, social justice and other topics that aren't specific to a game.
Was there anything that surprised you about working in PR and/or working for the Liberty?
We are a smaller organization compared to, say, an NBA team. What surprised me about that is how great an experience it really has been for me. I'm able to wear multiple hats, whereas if I were in a larger organization, I'd have one role. I also think it has been a great experience very early on in my career to learn the different PR facets that I might not be exposed to in a larger organization.
You mentioned that your job includes corporate outreach as well as social justice initiatives. The WNBA dedicated their 2020 season to social justice, which seems fitting given their long history of action on social issues. What was it like behind the scenes when this initiative was launched?
There was obviously a lot of uncertainty around whether we were even going to have a season. Once there was a decision to go forward, the players' union and the league wanted it to be more than just basketball. Given the circumstances, to have all our players and all the teams come together as one united force to create change in that bubble situation was very timely. The WNBA has always been at the forefront of social justice movements and will continue to be.
From a PR standpoint, we will absolutely do whatever it takes to amplify our team's messaging and push for justice. On the Liberty, we're incredibly fortunate to have ownership that's supportive of our team, of our players and of our initiatives.
It's great knowing that my work is bigger than basketball. It's a really good feeling, knowing that we're making a difference.
Working for a pro sports team like the Liberty seems like a dream job. Do you have any advice for someone who is trying to break into the industry?
In a program like Adelphi's MS in Sport Management, you're exposed to many different courses and disciplines within the field, whether it be marketing, licensing, legal and so on. Use this to your advantage in order to find which path really interests you the most.
You need to really identify what your strengths are within sport management — it's not enough to think, "hey, I want to work in sports!" and leave it at that, because, let's face it, a lot of people want to work in sports. Think more about what separates you, and where you can specifically add value to an organization.
You can't be afraid of rejection. If you don't get a response from one job that you applied for, that doesn't mean you don't apply to the next. Be persistent and continue to work hard until you find that right opportunity for yourself.
What is one of the coolest parts of your job? What do you love to tell people about your job?
It's really about being a part of the team. As far as PR goes, people may not realize the proximity of public relations to the team itself. But we're really part of that team. We get to travel with them and we're at practice every day. We create relationships with the coaching staff and players. That's the most fun part of my job, getting to have that camaraderie. That's something I thrived on being a former student athlete.
Before working for the Liberty, you played baseball and were an NCAA athlete at Baruch College. How does having experience as an athlete play into your work now?
I think it directly translates over. If you look around our front office with the Liberty, a good amount of the people working there are former student athletes. Not to say you have to be a student athlete to have a job in sports — absolutely not.
But those positive lessons of teamwork, time management, and work ethic translate directly into your professional career.
Those lessons I learned along the way carry right over, even subconsciously.
Even times where maybe you struggled as an athlete can help because you've learned to not be afraid of adversity and how to handle pressure.
Let's talk more about what it was like to pursue a sport management master's degree. Why did you decide to go back to school?
When I finished my undergrad degree in communications, I didn't have a full-time job lined up. At that point I was looking at internships, but I just knew that, to get where I wanted to go, a master's degree was definitely something that would benefit me. I took a few weeks after undergrad to think about it and at that point I applied to Adelphi.
Why did you pick Adelphi for your MS in Sport Management?
For me it was a no-brainer. I knew that I'd get a quality sports management education at Adelphi. If you do research the programs comparatively, Adelphi is at the forefront of sports management.
You were working as an intern with the NY Liberty when you started the degree program and later were working a full-time job, all while taking classes. What was it like to balance work and school?
Adelphi was incredibly supportive all along the way. When I was working my internship at the Liberty, the season ran into my class schedule, so it took some adaptability on both sides. I was able to get internship credit for it, which helped speed up my degree.
If you are in the master's program while working full time, the program is designed to accommodate the working professional. The professors are incredibly understanding if there is a conflict. It was a big help to have that flexibility and for me to be able to utilize weekends to get ahead with schoolwork.
It really helps that the faculty have so much experience working in sports themselves — they get it.
Whatever experience the students can build while also learning in the classroom, they're all for it. It benefits everybody.
What skills do you find yourself using from the program?
The biggest thing ties back to learning about all the disciplines within sports management. The curriculum is designed to expose you to different paths and different departments within sports management.
For me, learning a little bit about everything has been incredibly beneficial, because when you come together in a front office, it's not just PR — you're working with marketing, sponsorship, ticket sales, the list goes on.
There is a lot of collaboration in PR, so having a basic understanding of other departments allows me to communicate and collaborate better. It's good to speak their language and be able to think along with them.
Finally, what are you looking forward to in the next year?
I'm looking forward to a little bit of a sense of normalcy. Whether that will be being able to go to work, practices, games or even travelling a bit with the team. I'm just looking forward to getting into something that's a little more normal — whatever that is.
I hope I can get back in the field soon. That's really what makes this job special, when you get to see all the hard work displayed on game day. I'm looking forward to getting back out to Brooklyn and feeling the energy again.
That is really what I took away from this past year, that as long as we come together, work as a team and stay adaptable and open-minded, anything is possible. The show will go on.
---
About the Adelphi University MS in Sport Management
The MS in Sport Management at Adelphi University is designed for hard-working, ambitious individuals with a passion for sports. The degree is available online and on campus and includes optional specializations in sport marketing or athletic administration.
At Adelphi, students gain an in-depth understanding of the sport industry with coursework that includes business management, market analysis, budget preparation, sport law, spot marketing and public relations. They also learn how to turn previous athletic experience and interests into professional strengths in order to stand out in the industry.
Our students benefit from the connections they build with their peers and with faculty members who work in the industry. This is a team that will support you throughout your career.
---
Back to articles