---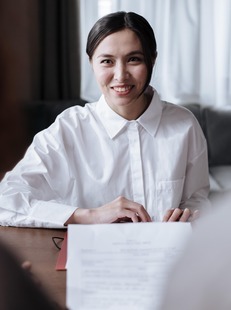 The United States is getting older. In 2020, there were 56.1 million Americans (approximately 17 percent of the population) over the age of 65. By 2060, the U.S. Census Bureau projects that this demographic will grow to nearly 95 million Americans, just under a quarter of the population.
Institutions need to prepare for this demographic shift. While Americans are enjoying longer lives than in the past and many older adults are able to function independently, aging comes with many challenges that may affect the health and ability of older adults to function independently within society. Illness and other health problems can require outside help for everything from grocery shopping to bathing. In addition, by 2060, an estimated 13.9 million older Americans will suffer from Alzheimer's disease and related dementias, compared to 5 million in 2014, according to research published by the Alzheimer's Association.
Even for older adults in good health, loneliness and isolation come with potentially negative health consequences. A lack of social networks has been tied to a number of poor health outcomes, including premature death; a greater risk of stroke, heart disease and dementia; and higher rates of depression. It is important that we address the needs of the whole person when working with older adults and their families, and pay attention to their mental, physical, emotional and social well-being.
---
The Need for Gerontological Social Workers
In a society that prizes youth, older people's experiences and contributions are often ignored, and their needs are perceived as burdens. Social workers specializing in gerontology value older people and empower them to live full lives, benefiting their older clients in question, their families and their communities. Gerontological social workers can also help shift inaccurate and negative perceptions of older adults, which can encourage more public support for resources that will ultimately further help them and their families.
"There are a lot of mental health, [physical] health, social, economic and housing-related issues that are quite unique for older adults," says Daniel Kaplan, associate professor of social work at Adelphi University. "Providers need to have an awareness of all of that in order to provide competent care."
To equip professionals for these challenges, Adelphi's Online Master of Social Work degree programs offer electives focused on older adults, such as Selected Issues in Social Work Practice with Older Adults; Social Work Practice with People Living with Dementia; and Social Work Practice in Health Care. In addition, through the Goidel Gerontology Fellowship in Social Work, students can learn from leading gerontologists during a field experience and attend monthly presentations on issues and topics relevant to the specialization.
There are many career paths for social workers who want to ensure older adults thrive—and that their families do too. Skills and knowledge in geriatric social work can be applied in a wide variety of settings. Here are a few of them:
Residential Care
Families of older adults facing physical or mental limitations often need help identifying suitable residential settings and services for their loved ones and navigating the range of resources available for caregiving. These can include:
Nursing homes
Long-term care facilities
Assisted-living facilities
In-home care
Social workers can assess the clients' psychosocial, emotional and mental health needs and research possible solutions and options that will best align with their requirements and preferences. For example, for an older adult who is able to live at home but has some limitations, the social worker may help set up a meal delivery service or arrange installation for assistive equipment like ramps and safety bars. They may suggest long-term or assisted living facilities for patients needing more robust care. Collaborating with clients and their families to explore and evaluate the options is a key component of residential care.
In addition to working one-to-one with clients, social workers may also design policies and programs that encourage residents to socialize, exercise or participate in hobbies and other activities. For patients with more severe health problems, such as dementia, they may create routines to reduce anxiety, provide access to counseling or other behavioral health services and make sure their clients are treated with dignity and respect. They may also direct family members to counseling resources to help manage emotions regarding a loved one's aging process or illness.
Social workers in residential care settings need:
A deep understanding of the developmental needs of older adults and their families, and the resources to which they have access
Familiarity with public regulations and requirements
The ability to navigate healthcare systems and insurance companies
Strong communication and interpersonal skills to work with clients and their families
Clinical and behavioral expertise related to client evaluation and therapeutic intervention
Community Programs
Local and state governments as well as nonprofits often offer community resources for older adults, such as a dedicated department of aging of a local government agency, senior day centers and recreation centers. The Older Americans Act has provisions for various programs targeted at supporting older adults who continue to live in the community. Programs can include educational offerings on topics such as computer literacy, estate planning and other legal issues related to aging, and Medicare enrollment. Senior and recreational centers may serve as sites for activities like classes, workshops, book clubs, and informal socializing and meetups. These programs can help with the isolation that some older adults may experience.
Social workers are often at the forefront of planning and organizing these programs. As such, they require:
An understanding of conducting a needs assessment and of the needs of older adults and their families
Skills in program planning, including budgeting and staff/volunteer management, and promoting events
A knack for organizing and facilitating groups and encouraging interaction
Advocacy Groups and Legal Firms
Older adults themselves and their families often are their best advocates! Social workers with a focus on social justice can play an important role in working with older adults and their families to develop advocacy groups that can provide guidance and leadership to policymakers, legislators and the public and influence policymaking and program implementation in areas such as healthcare, Social Security and other benefits programs, affordable housing, crime and safety. They may lobby for new laws and programs that benefit older people, their families and their communities by drumming up support from government representatives and the public.
Law firms may hire social workers to assist in their work of representing older adults in cases of elder abuse or neglect, financial exploitation, legal guardianship, insurance appeals, end-of-life issues and more. These social workers may use their professional expertise to evaluate clients' needs and strengths and provide insights into their care arrangements.
Social workers acting as advocates and legal experts for seniors should have:
Advanced clinical assessment skills
Comprehensive knowledge of resources available to seniors
An understanding of laws related to guardianship, power of attorney, etc.
Knowledge of how to navigate government and legal systems and processes
The ability to research and synthesize information into potential solutions
Awareness of social and demographic trends and their implications for older adults
Skills in building relationships and networks for effective interagency cooperation
The ability to promote and build support for public policies and other proposals
Healthcare
An older adult's hospitalization or need for intensive medical intervention can become a crisis for themselves and also their loved ones. Social workers in healthcare support clients and their families by offering counseling services, providing education on and managing expectations during treatment and arranging preparations for continuing care after discharge.
Social workers in healthcare settings must develop a holistic understanding of each client's unique medical, social and emotional needs and then coordinate with medical professionals and caregivers to identify their best options for treatment and rehabilitation. For example, if a patient needs around-the-clock care after leaving the hospital, the social worker will work with the family to identify and refer them to a long-term care facility or find resources for in-home care.
Each client must receive regular follow-ups to assess whether they need new or additional services to support their physical and mental health. Since family members often experience extreme stress and burnout when taking care of older loved ones, social workers may offer additional support by introducing these individuals to self-care techniques and counseling resources.
Other skills social workers will call on when working in healthcare include:
Case management
Problem-solving
Patient advocacy
Culturally competent care
Helping Older Adults Live Their Best Lives
Social workers can make a big difference in the quality of life for older adults and their families, whether working with them one-to-one, in groups or on a state or national scale. With the person-in-environment perspective, a deep understanding of the developmental phase and the needs and demands of their older clients and families, social workers can serve as a bridge connecting older adults with the support that will enrich their lives.
---
About Adelphi's Online MSW
The highly respected School of Social Work at Adelphi has a long history of producing leaders in social work and helping to shape social policies. Since 1951, we have continually been accredited by the Council on Social Work Education, and Adelphi's social work graduate program now ranks in the top 25 percent of the country, according to U.S. News & World Report. Our faculty is comprised of expert practitioners and researchers who publish across the full range of topics within the field—including disparities in healthcare, child advocacy, the role of social workers in shaping policies and more.
The Online Master of Social Work program brings the combined decades of expertise and legacy of Adelphi's leading social work school to a flexible curriculum designed for working professionals. Because building relationships is essential to the social work field, we include two annual residency experiences, which can be completed online or on campus. We are proud of our ability to deliver personalized attention in the online classroom. Our graduates complete the program prepared to become Licensed Master Social Workers and begin rewarding careers.
---
Back to articles