---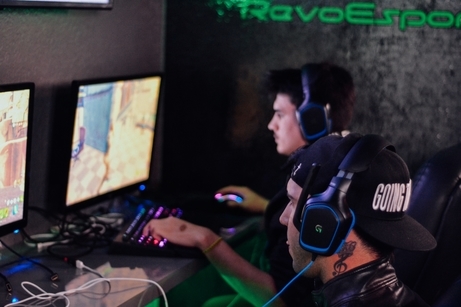 The scene outside the Staples Center in Los Angeles looked like a typical Sunday on April 28, 2013. The temperature hovered in the low 70s with a light covering of clouds until the sun emerged in the early afternoon. Inside, the scene wasn't too unusual. All 15,000+ seats were filled with fans who had come to see two of the best sports teams in North America face each other.
The crowd carried an electricity, an excitement that could be felt in the chants that reverberated back and forth across the arena and steadily grew in volume as the time for the game's start crept closer. But the excitement in the air that Sunday felt different. This was something more.
This was the final game in the first professional League of Legends Championship Series. One of the giants in esports, Team SoloMid, faced off against a team that had long been seen as the underdog, Good Game University. This match would decide who won the championship and the $50,000 grand prize.
For League fans and players, it was the culmination of years of anticipation; they could finally see their favorite game played at a professional level.
For industry onlookers, it was a clear message: esports had finally arrived in North America.
---
The Explosive Growth of the Esports Industry
The industry has come a long way since 2013. In the 2021 LCS Summer Split series, teams competed for a $200,000 grand prize, four times the reward from several years earlier. A larger variety of games have also made it to the regional and national arenas. From digital trading card games like Hearthstone to iconic sports franchises like FIFA, the market for competitive gaming continues to climb — as do the professionals pursuing careers in esports.
In addition to the players and coaches, a variety of people work behind-the-scenes to support the teams and host events capable of keeping stadiums packed with fans.
These roles cover a wide variety, from software and platform engineering to marketing and broadcasting. For this article, we'll focus on the types of esports careers that match the skills taught in our online master's in sport management program, which include jobs in marketing, management, communications, coaching and college athletics administration.
For those with more of a technical background that are interested in a career switch, knowledge of the technology behind esports games is a valuable plus for many communications and community-oriented opportunities. These are the kinds of roles that bridge the potential communications gaps that could emerge between players, teams, publishers, developers and their growing, global fanbases.
Esports Careers in Marketing
In many ways, the most common esports marketing careers overlap with parallel roles in physical sports. For example, brand sponsorships and event marketing are critical to the growth of the esports professional gaming sector, and corporate partnerships are a key source of both revenue and brand awareness for competitive teams. Additionally, backgrounds in licensing and merchandising will continue to play important roles as the professional gamers and teams seek to monetize their growing intellectual property, such as gamer tags, logos, streaming presence, logos and other valuable elements of their brands.
Positions in esports also put significant emphasis on digital marketing skills, such as social media, content marketing and digital broadcasting. While print media and other traditional efforts remain important for esports tournament promotion and merchandising, successful marketing in this industry is especially dependent on brands' ability to use digital media alongside traditional avenues.
As esports franchises, broadcasting companies and video game developers and publishers alike expand their marketing, many of the career paths highlighted below can be pursued in numerous work environments.
Job Title
Job Summary
Marketing Manager

Develop strategies for increasing viewership and attendance for esports events.
Utilize social media, search marketing and other digital channels to promote esports events and brand awareness.
May focus on overall brand marketing or specific marketing channels, including email, social media, organic search, digital media and corporate partnerships.

Licensing Manager

Protect trademarks and copyrights for distinguishing elements of their esports brands.
Develop partnerships with retailers and sponsors for merchandising deals and esports brand promotions.
Ensure third-party usage of logos and branding are compliant with team/franchise standards.

Communications Manager

Develop messaging and public relations strategy for esports teams, franchises and other organizations.
Coach individuals and teams on how to effectively respond to press questions and give compelling interviews.
Develop and grow longterm professional relationships with esports journalists and other media.

Director, Partnerships

Pursue partnerships with sponsors to build franchise awareness and drive revenue via product advertising.
Create and manage promotional and merchandising strategies with sponsors and other corporate partners.

Esports Content Creator

Develop a wide range of multimedia content to drive audience engagement, such as fan Q&A videos, social media posts, blogs and website content.
May specialize in different marketing channels.
Leverage third-party research, audience feedback and website/engagement data to determine which types of content resonate most with fans.

Esports Manager

Manage the structure and overall operations of esports teams.
Develop strategies for sourcing and recruiting esports talent.
Assist players' in building their personal brands and preparing for competitions.
---
Esports Careers in College Athletic Administration
Alongside the growth of professional esports, universities have begun hiring coaches and administrators, as well as supporting student-led esports events and clubs. At Adelphi, we supported tournaments in Rocket League and Super Smash Brothers earlier this year, and many of our students are engaged at all levels of play. Near the end of 2020, for example, one of our business school alumni, George Adamou, was named one of the world's top-ranked FIFA 20 players.
Depending on the size and structure of the university's sport teams, the roles below may not be solely focused on esports and may have administrative duties across a range of different types of sports. For example, director-level and higher administrative roles usually manage overall operations for sporting events and recreational activities across the university, including esports programs (if applicable).
Director, Student Engagement/Affairs

Oversee a variety of events, clubs and organizations for universities, ranging from LGBTQIA+ awareness initiatives to sporting and other recreational events.
Manage university budget for hosting and managing engagement initiatives.
Manage professional and other development programs, such as forming partnerships for students interested in internships.

Head Coach, Esports

Build and develop competitive esports teams.
Train players to hone their individual technical skill as well as teamwork and collaboration.
Oversee the growth and coordination of esports clubs and events.

Esports Coordinator

Assist in a range of coordination and management activities, including marketing and promoting esports events to students, developing recreational and athletic programs and other administrative duties as needed.
Schedules strategy and planning meetings and assists with the development of new esports programs.
Supervise student volunteers and workers during university-sponsored esports events.
While momentum for esports shows little sign of stopping, the gaming industry at large has run into numerous challenges as fans of video games become increasingly diverse. Diversity, equity and inclusion in gaming entered the international spotlight in 2021, but it's also an issue with a complex and lengthy history.
---
Challenges in the Esports Industry: Diversity, Inclusion and Equity
As many analysts have commented over the last decade, diversity has become a key point of contention for the gaming industry, and the esports segment may have especially significant challenges to navigate as major brands face more pressure to reduce harassment against women and people of color in gaming communities. Activision/Blizzard, the developer behind several esports titles — such as Call of Duty, Overwatch and Hearthstone — faced a lawsuit in July 2021, which alleged an organization-wide culture of sexual harassment targeting women persisted through the company. Although Activision/Blizzard released a public statement, more than 2,000 employees signed a petition that called its response, "abhorrent and insulting," and the company's investors have also criticized the response, calling on Activision/Blizzard to take more accountability.
Many esports organizations have taken some initiative to support diversity internally and within the fan communities that grow and expand around their games. For example, a partnership between Riot Games, Nerd Street Gaming and Comcast led to a historic, all-women virtual League of Legends tournament in September 2020.
Electronic Arts also sought to rethink how it approached diverse representation after one game designer performed an analysis quantifying the representation of women in FIFA. The designer proceeded to lead the charge for a pilot project to view 12 more of EA's games through the lens of diversity and inclusion.
These initiatives are laying the foundation for more work in this area, but there is still more that needs to be done to fully support safe and inclusive environments. One issue is that the video game industry itself isn't representative of people who play video games, since developers and publishers are significantly less diverse by comparison.
In addition, the anonymity of online communication and misperceptions about who should play video games have presented significant obstacles to creating more inclusive communities.
While progress is still ongoing, significant strides have been made to increase awareness and address the issue of harassment and other negative community behavior. In 2019, for example, VentureBeat hosted a discussion panel, including experts from game design, advocacy and union administration. Katie Scott, senior game designer at Electronic Arts (EA), shared her experience, in which she has tried to build greater empathy and communication skills within the developer community, and how she's pushed for larger scale change within EA.
With awareness around diversity and inclusion growing, organizations have also started to take more proactive steps to managing their player and fan communities. Some game developers have started addressing the issue by focusing on inclusion within the game design process, leading to additional cooperative and positive social elements within their online games. On the community management side of the industry, experts have made recommendations around intentionally building inclusive and diverse communities within gaming.
Some examples of steps that can be taken include:
Develop and publish clear expectations about diversity and inclusion in the code of conduct for games as well as esports events.
Advocate for training employees managing, promoting and coaching within esports to build more awareness around toxic behavior and how to better support diversity and inclusion.
Feature and promote in-game moderation tools to limit the impact of negative behavior in player communities on a day-to-day basis.
Ensure community moderators or support staff are involved in moderating in-game player behavior. Do not rely exclusively on automated tools.
Implement harsher penalties for esports players and leaders who do not adhere to community standards.
Evaluate recruiting practices to maintain an equitable hiring process for all roles and candidates.
The video game industry has come a long way from the days of the Atari, and the connected nature of modern games has created a lot of challenges for businesses to navigate. While esports is an emerging sector, organizations like Twitch have started to invest more resources into the community management aspects of their platforms. Last year, for example, Twitch posted roles looking for data analysts focused on improving the overall health of its communities. As more companies start to explore ways of addressing the issue, there are also likely to be more opportunities in positions that oversee diversity, inclusion and equity initiatives as well as more community support roles in esports.
---
Will Esports Careers Be Stable for the Future?
The Labor Insight database from Burning Glass offers a glimpse into how rapidly careers in esports have grown and where the demand is the highest. Just as the North American esports scene seemingly sprung into existence around 2012-2013, the number of U.S. jobs mentioning esports launched from 40 postings in 2012 to more than 4,600 in 2020. Demand is highest in Los Angeles and San Francisco, followed closely by New York City.
While the U.S. job market for esports is relatively new compared to other industries, we expect the trend to continue in the long-term. The growing popularity and profitability of professional gaming on a national and global stage has made it feasible for esports to also rise among smaller regional and college tournaments.
On an international scale, opportunities within esports careers are even more varied. As one of the first countries to recognize esports players as athletes, South Korea is the world's leader in professional gaming, and the same trend is taking shape in China. In Germany, a new class of visa for esports professionals has been created to allow more freedom of movement between the country and other EU members.
Like any other emerging sector, esports is a field with both a lot of opportunity and risk. However, it's an area that has proven hugely successful internationally, and the popularity of esports continues to climb in the United States.
It's a field to consider if you're someone who is passionate about technology and gaming, and want to leave your mark on an industry while it's still maturing.
---
About the Adelphi University MS in Sport Management
The MS in Sport Management at Adelphi University is designed for hard-working, ambitious individuals with a passion for sports. The degree is available online and on campus and includes optional specializations in sport marketing or athletic administration.
At Adelphi, students gain an in-depth understanding of the sport industry with coursework that includes business management, market analysis, budget preparation, sport law, spot marketing and public relations. They also learn how to turn previous athletic experience and interests into professional strengths in order to stand out in the industry.
Our students benefit from the connections they build with their peers and with faculty members who work in the industry. This is a team that will support you throughout your career.
---
Editor's Note: We initially began development of this article before the news of the Activision/Blizzard lawsuit became public. We originally intended this as a broader career resource, but as more news came out about the issues at the company and throughout the industry, we wanted to make sure we discussed the potential impact these issues would have on the field.
If you have any questions about our diversity and inclusion initiatives, please contact our Office of Diversity, Equity and Inclusion.
---
Back to articles