---
If you went back in time to the release of the Atari and told people that video games would become powerful teaching tools, they would probably have some serious doubts. Yet we've now seen that games like Minecraft can be used to engage students in the classroom, as well as employees in corporate training programs. We now understand that technology can transform the way we think of the classroom, and even transform learning itself.
In fact, some people would say that video games will be important to the future of all education.
Of course, there are a lot of pitfalls involved in using any technology for learning, whether you're talking about the classroom or business training. Learners may not use it in the way you intended, or they may be distracted instead of engaged. This is part of what makes educational technology careers both exciting and challenging. It's up to these professionals to answer tough questions like: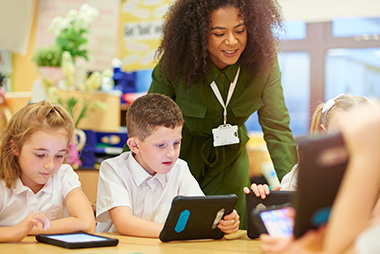 What specific technologies could have educational value?
How can certain technologies and tools be used to reach a desired learning outcome?
What can instructors do to keep students engaged instead of distracted?
There are also numerous ways to tackle problems like these. Technology can be integrated into a broader curriculum, but it can also be part of designing lesson plans for the classroom. Schools also hire educational technology professionals as consultants who help advise teachers and aid in designing lessons with an eye toward using technology effectively.
When it comes to edech in business settings, software and other technology tools can be utilized to deliver virtual lessons, or to design multimedia training programs. However, some of the same challenges apply in these environments as in the classroom. For example, how do you encourage employees to be engaged in digital learning tools, and how can these tools be used to improve how well they understand the material?
We know that, with so many career options and challenging issues out there, it can be difficult to decide which path is right for you. So, we wanted to highlight some of the careers with a master's in educational technology that offer potential for personal growth as well as the chance to make a real difference in the field.
---
What Can I Do with a Master's in Educational Technology?
If you pursue a master's in educational technology, you have numerous career paths to consider. Although a lot of the opportunities in the field are in education, business training courses have also begun leveraging technology in new ways. For example, gamification is becoming a popular way to build softer skills such as communication, as well as teach topics that are not as interesting to most learners, such as a company's compliance requirements.
In both business and school settings, educational technology professionals with many different perspectives are needed. For example, if your background were in IT, your role may be to manage the implementation of technology like gamification software, or ensure that your organization has the supportive technology to make eLearning technology run optimally.
If your background were in teaching, you'd be able to use the knowledge gained in an MA in Educational Technology program to integrate learning technology within your lessons.
Regardless of your professional experience, the educational technology field is dynamic and growing, which means that you'll find the most success if you're the type of person who is inquisitive, creative and entrepreneurial. You may end up carving your own path as an edtech consultant, or be the one who pushes for technology-focused change within your organization.
---
Careers with a Master's in Educational Technology – Select Salaries
| Job Title | Median Salary |
| --- | --- |
| Learning and Development Consultant | $72,635 |
| Technical Trainer | $62,019 |
| Instructional Designer | $61,097 |
| Instructional Technology Specialist | $51,616 |
| Educational Specialist | $49,840 |
Source: Payscale.com
---
What is the future of Educational Technology?
The future is bright for educational technology, with Frost & Sullivan predicting that global investments in the field will increase at a compound annual growth rate of 18.3% through 2022. However, professionals in the field will also face highly dynamic and ever-evolving challenges due to how quickly technology can change.
For example, the ability to use artificial intelligence has historically been limited to companies with large technology budgets and that could invest in huge amounts of computer processing power. As AI has become more accessible, and available through cloud services like IBM's Watson platform, however, education is now a key area for AI because it is highly accessible and easy for non-technical professionals to use. As a result, educational technology professionals will have to consider how to best use technologies like AI, which technologies are worth the hype and which aren't, and how to best bring them into a learning environment.
If you're excited by complex challenges like these, an educational technology career is a great way to leverage your passion. We can't predict everything that will happen in the future of edtech, but it's safe to say that the field will bring exciting challenges, require tough decisions and present opportunities to shape the future of learning.
---
About Adelphi's Online MA in Educational Technology
Our online M.A. in Educational Technology program offers a blend of technical skills and problem-solving capabilities alongside theoretical and practical knowledge about teaching and learning. With this philosophy at its core, the program offers courses that teach practical skills, like Python and HTML5 programming, as well as a comprehensive exploration of theories of knowledge.
The program also offers opportunities for you to gain exposure to innovations in the areas of edtech that interest you most. The large selection of electives gives you additional options to personalize your study, with topics including video games and learning, educational video production, mobile technology and learning, and social media.
---
Back to articles