---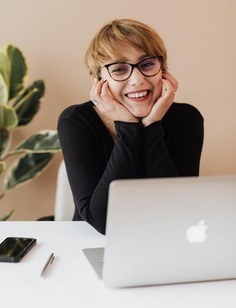 When pursuing graduate social work education, one of the many questions to ask yourself is a simple one: would you prefer an online or an on-campus program? Both options have their pros and cons, but there are several reasons to choose an online MSW over an on-campus one. For many, an online MSW program fits better into a busy lifestyle by allowing students to continue to work while pursuing their education.
As online MSW programs become increasingly common, one of the challenges they face is giving students the same sense of connection that they would experience in on-campus programs. Providing this community to students isn't impossible, though. Effectively using technology such as break-out rooms during video conferencing sessions and interactive discussion boards are two great starting points. Another important way to foster connection is through on-campus residencies.
Residencies give students the opportunity to meet–either in-person or virtually–for a period of time to build professional connections with their peers and professors. Residencies for the Adelphi Online Master of Social Work program are a two to four day virtual experience that take place in August and January. During these residencies, you'll have the chance to collaborate with peers and faculty as well as participate in networking opportunities.
---
The Benefits of a Residency Experience
From gaining a proper introduction to the program to hearing presentations by keynote speakers, residencies can be beneficial for students in a multitude of ways. MSW residencies may include the following:
Speakers and discussions
Peer mentoring
Group projects
Q&A sessions
Networking opportunities
"The purpose of a residency is to foster connection," said Patricia Joyce, associate professor and director of the Online MSW program at Adelphi University. "We also want students to start out on their very best foot."
Residencies nurture the relationships—student-to-professor and student-to-student alike—that are formed in MSW programs, which can last far beyond the duration of the program. The practical and social components of these events can also help prepare social work students for aspects of their current or future careers.
"Social work is very much about learning to work with people," said Aaron Kesselman, assistant director of field education for Adelphi's Online MSW program. "These residency experiences are truly how an online social work student will blossom."
---
Virtual vs. In-Person Residencies
Although an in-person residency gives students a chance to experience a different setting, a virtual residency allows students to attend with minimal disruption to their lives.
"From my experience, students bond during these residencies, whether they're physically together or not," said Kesselman about Adelphi's Online MSW program residencies. "The truth is that bonding can and will take place in an online program."
Read on to find out more about different types of experiences at a residency, including specifics about the Adelphi MSW residency.
---
Meeting and Networking With Professors and Students
Depending on the timing of your residency, it might be your first steps in your MSW program. A residency gives you the chance to get acquainted with your professors and peers. This can enhance the educational experience and foster a sense of community among online students.
"You should get a good feel about the culture of the school, and that's specifically what we do in the residency," said Kesselman. "We methodically create an entryway that allows students to become a part of our community."
One of the greatest advantages of any residency is the chance for students and faculty to get to know one another. Networking provides students with valuable opportunities that can lead to connections and job opportunities.
"We have an event called a peer hangout, which is facilitated by students for students only," said Joyce. "Students in the virtual residency will meet in their own Zoom room. The chats are facilitated by peer mentors. The students have a chance to meet, get to know each other,and exchange contact information. The peer hangouts are highly rated in our program. The students really enjoy them."
---
Group Projects and Discussions
Some residencies incorporate short-term group work, which may include:
Group projects
Case studies
Discussions
Group work and discussions benefit students by allowing them to problem-solve and work on different types of projects than they might focus on in their classes. It also allows students to discuss and think through broader issues in social work or about challenges those new to the profession might encounter.
---
Q&A and Peer Mentorship
During a residency, students have the opportunity to ask general questions about their program, which may include advice on time management or questions about their field practicum (a requirement for Adelphi's MSW program).
"Field practicum in an MSW program is commonly known as the signature pedagogy of social work education, and students have a lot of questions about it," said Kesselman. "The residency gives them a resource for those answers, which is reassuring to them."
Residencies also provide the opportunity for collaborative programs, like peer mentorship, outside of the (virtual) classroom.
"At the residencies, we introduce new students to our peer mentoring program," said Joyce. "Current students match up with new students to give them the informal peer support and guidance they need to manage the challenges of balancing classwork and other life expectations."
---
Guest Lecturers and Keynote Speakers
Many residencies include unique guest speakers or lecturers. MSW students have the opportunity to get advice about field practicums, job applications and interviews, and how to successfully navigate an MSW program alongside other life commitments.
The Online MSW program at Adelphi features current or former students in the program as keynote speakers. These students discuss aspects of their early careers, including the licensing exam, and make themselves available in a networking capacity.
---
Adelphi's MSW Residency
Adelphi University's Online MSW and Advanced Standing Online MSW residencies take place twice annually in August and January. Students who have previously attended in-person residencies will continue to attend in-person residencies at Adelphi's main campus on Long Island in Garden City, N.Y. Beginning in fall 2023, new students to the program will complete all their residencies online.
The residencies will include sequence forums, writing workshops, practicum forums, alumni panels and peer hangouts. Residencies will also focus on community-building and providing students with resources and support.
During the virtual residencies, students have the chance to collaborate with peers and faculty in a virtual classroom setting, as well as participate in networking opportunities.
To learn more about the residencies, visit the Adelphi MSW curriculum page.
---
About Adelphi's Online MSW
The highly respected School of Social Work at Adelphi has a long history of producing leaders in social work and helping to shape social policies. Since 1951, we have continually been accredited by the Council on Social Work Education, and Adelphi's social work graduate program now ranks in the top 25% of the country, according to US News & World Report. Our faculty are expert practitioners and researchers, having published across the full range of topics within the field—including disparities in healthcare, child advocacy, the role of social workers in shaping policies and more.
The Online Master of Social Work program brings the combined decades of expertise and legacy of Adelphi's leading social work school to a flexible curriculum designed for working professionals. Because building relationships is essential to the social work field, we include two annual residency experiences, which can be completed online or on-campus. We are proud of our ability to deliver personalized attention in the online classroom. Our graduates complete the program prepared to become Licensed Master Social Workers and begin rewarding careers.
---
Back to articles