Nicholas V. Cagliuso, Sr., PhD, MPH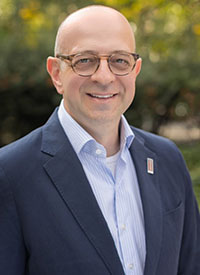 Adjunct Faculty
College of Professional and Continuing Studies
Phone: 516.877.3400
Email: ncagliuso@adelphi.edu
Dr. Nicholas V. Cagliuso, Sr., adjunct faculty in Adelphi's emergency management program and former Center for Health Innovation advisory board member, is an accomplished faculty member teaching graduate courses in economics, public health preparedness and disaster research. He is adjunct assistant professor of health administration in NYU Wagner's Online Master of Health Administration program. Dr. Cagliuso co-designed and taught "Introduction to Public Policy" for the Abu Dhabi School of Government in 2022.
Dr. Cagliuso is a leading international emergency management scholar-practitioner. He is senior advisor for emergency management at MDB, Inc., providing expert insights and collaborative solutions to the pressing challenges of healthcare, public health and emergency management clients.
He is also former founding scientific director for research for the National Center for Disaster Medicine and Public Health's Military-Civilian National Disaster Medical System Interoperability Study, where he facilitated discussions with senior representatives across the federal interagency and civilian healthcare delivery sectors, gathering key insights and developing actionable recommendations.
Dr. Cagliuso is the former founding senior assistant vice president for emergency management at NYC Health + Hospitals, where he developed its Incident Command System (ICS) and Emergency Operations Center (EOC). He built a team overseeing finance, administration, Continuity of Operations (COOP), planning, training, and countless grants. In 2015, Dr. Cagliuso created its System-wide Special Pathogens Program and served as liaison officer for the response to NYC's Ebola patient. Dr. Cagliuso was founding core faculty of the National Emerging Special Pathogens Training and Education Center (NETEC) and served as co-principal investigator. In 2018, he assumed responsibility for System-wide Security and Hospital Police, including its Hospital Police Academy and, in 2020, he activated the System's ICS in response to COVID-19.
He is director, strategic alliances for the Operational Board of the Association of Healthcare Emergency Preparedness Professionals (AHEPP). He is an editorial board member of the Journal of Business Continuity and Emergency Planning and a peer reviewer for multiple other journals.
Dr. Cagliuso earned a BS in Fire Science, cum laude, from John Jay College, a Master of Public Health in Emergency Medical Services from New York Medical College and a PhD in Health Care Administration, with distinction, from Capella University.