Kenneth C. Rondello, MD, MPH, CEM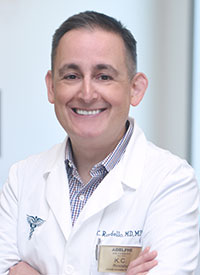 Interim Faculty Director, Emergency Management and Emergency Services Administration
Clinical Associate Professor, Public Health & Emergency Management
College of Nursing and Public Health
Phone: 516.877.4544
Email: rondello@adelphi.edu
Kenneth C. Rondello, MD, focuses his work on disaster epidemiology; alternative medical treatment stations (ATMS); and epidemic and pandemic planning and response. He is currently a member of the Disaster Medical Assistance Team (DMAT) NY2.
Throughout his extensive career, Dr. Rondello has been deployed with DMAT NY2 to assist in numerous natural and man-made disasters including Hurricane Ike and 9/11. During academic breaks, he volunteers his time to Pro World, Global Aware, the Yale Alumni Service Corp and Doctors without Borders. Since 2009, he has taken nearly a dozen trips to Haiti, Belize, Ghana and Nepal to volunteer in a variety of capacities.
Dr. Rondello earned his MD in Epidemiology and Public Health from Saint George's Medical School, and his MPH in Health Policy, Resources and Administration from the Yale University School of Medicine. He also holds a BA from Trinity University.