Nicole Marks, CEM, MEP, MS, MPA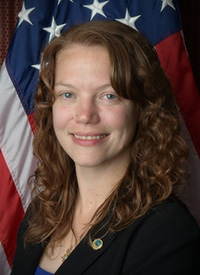 Nicole Marks has experience in emergency management at both the local and state level in New York, as well as experience with non-governmental organizations and the private sector. A 2009 graduate of Loyola University of Chicago, she earned an MS in Protection Management from John Jay College of Criminal Justice in 2010, double concentrating in both Emergency Management and Security Management.
Nicole served three terms with AmeriCorps (State and National/NPRC), working at the American Red Cross in Greater New York. She obtained certification through FEMA as a Master Exercise Practitioner, Basic Instructor and Master Continuity Practitioner. She earned a Master of Public Administration in Disaster and Emergency Management from Metropolitan College of New York and later became a Certified Emergency Manager through the International Association of Emergency Managers in 2015. She now serves as the regional secretary for IAEM Region 2.
Nicole worked at the state level from 2016 to 2019, serving as the regional preparedness coordinator for the New York State Division of Homeland Security and Emergency Services, Office of Emergency Management, Region 1, Long Island. In that position, she became planning section chief for large-scale events such as the Jones Beach Air Show, Belmont Stakes and the Jones Beach July 4th Fireworks. From 2019 to 2021, Nicole was the director of emergency planning with Nassau County Office of Emergency Management where she implemented planning, training and exercise initiatives and opportunities for the county and approximately 70 different jurisdictions, two neighboring counties, as well as state, federal, private sector and volunteer partners. Nicole was also the planning section chief for the Nassau County Emergency Operations Center for the COVID-19 activation, Hurricanes Isaias, Henri and the remnants of Ida.
A devoted teacher, she has been working with IAEM Student members to create the Student Webinar Series to feature a student and school in the spotlight.